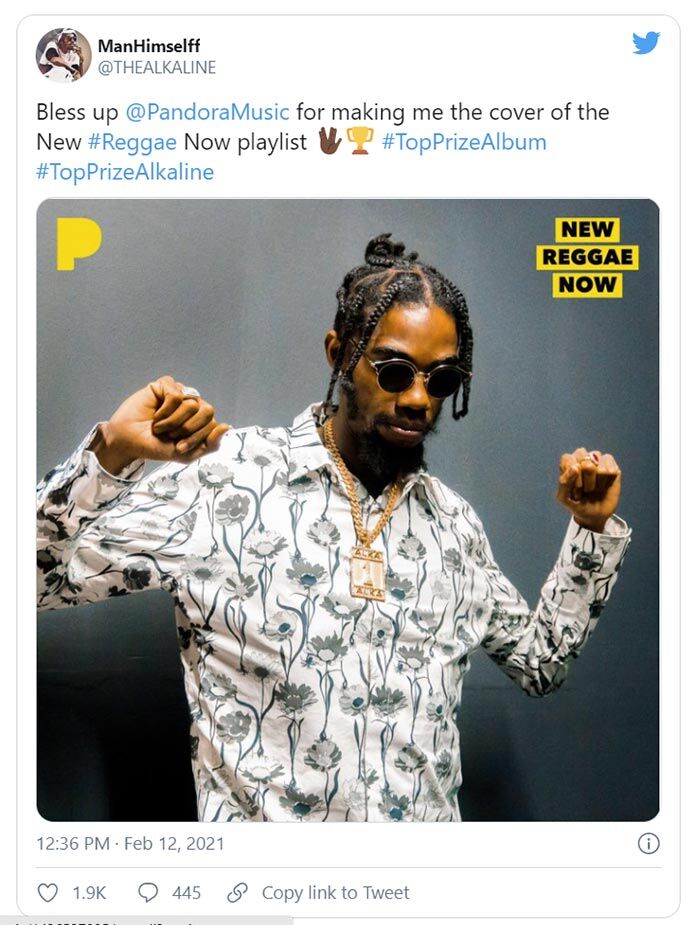 Alkaline, the man himself, is currently at the center of the dancehall universe and creating the loudest buzz following the recent announcement that he will be releasing a long-awaited and much-anticipated album in early spring. Several signs suggest an alignment of the stars favouring the success of the album despite anticipated stiff competition from several dancehall/reggae albums set for release this year.
The worldwide lockdown caused by COVID-19 for the most of 2020 allowed artistes more time in their studios. The result is that some of the biggest names in dancehall and reggae will be releasing albums this year.
Some of the artistes who will be releasing albums this year are: Beenie Man, Sean Paul (2 albums), Bounty Killer, Chronixx, Koffee, Spice, Shenseea, Popcaan (collaborative EP), Intence, I-Octane, Squash, and Rygin King.
Despite the undoubted talent of those artistes who will be dropping albums this year, Alkaline is aiming for the pole position. He explains that "Top Prize", the rumoured title of his soon-to-be-released album, represents the winning of a competition, "…basically showcasing victory against all odds."
"This album is timely with the opportunities I have been given, lessons learned along the way, my personal growth and experiences …experience teaches wisdom, so it is only fair that I bring everything full circle," he says.
In addition to his talent, creativity, and hard work, the stars seem aligned in Alkaline's favour.
"Top Prize," a track from the album, debuted at the top of the iTunes chart and Pandora selected him as the cover for their "New Reggae Now" playlist. Alkaline currently has more than 39 million streams on Pandora's platform.
On February 22nd, less than two weeks after "themanhimselff" revealed the scheduled release of his upcoming album, Spotify disclosed plans to expand into over 80 new markets across the Caribbean, Latin America, Africa, Asia, and Europe.
The timing couldn't be more perfect. It will now be possible for a very large portion of the huge and loyal Vendetta fanbase to use Spotify's streaming services.
If the success of Alkaline's debut album, is anything to go by, then "Top Prize", with him at the top of his game and having a larger and more loyal fanbase, should do exceptionally well.
"New Level Unlocked", which was released in March 2016, became the first dancehall album, in five years, to reach the top of the American reggae charts. It spent 18 weeks on the Billboard Reggae Chart. The album was also a chart success in the United Kingdom, albeit that concert dates on his 2016 British tour had to be canceled due to security issues.
Though Alkaline has not released an album in the last five years, he has kept a staunch presence in dancehall and has remained relevant with monster hits such as: Impact, Talk Truth, Nothing Nuh Change, Juggernaut, Elite Only, Monopoly, Son of a Queen, Pretty Girl Team, Suave, Thug Loving, Nah Fi Like, Nuh Average, Ocean Wave, Cree, and Real Dawgs.
The "Detta Boss" seems to have a plan which he often alludes to in songs such as Impact and Ocean Wave. And he spells it out clearly in Top Prize: "Long as mi stick to di plan dem soon cah pay fi duh nuh song." The standard English interpretation of which is "As long as I stick to the plan, they soon can't pay me to do no (any) song."
Perhaps, Alkaline is urging us all to buy and enjoy his records now, lest we are unable to do so if he sticks to his plan. "Caawn wait fi get fi mi copy of di album."