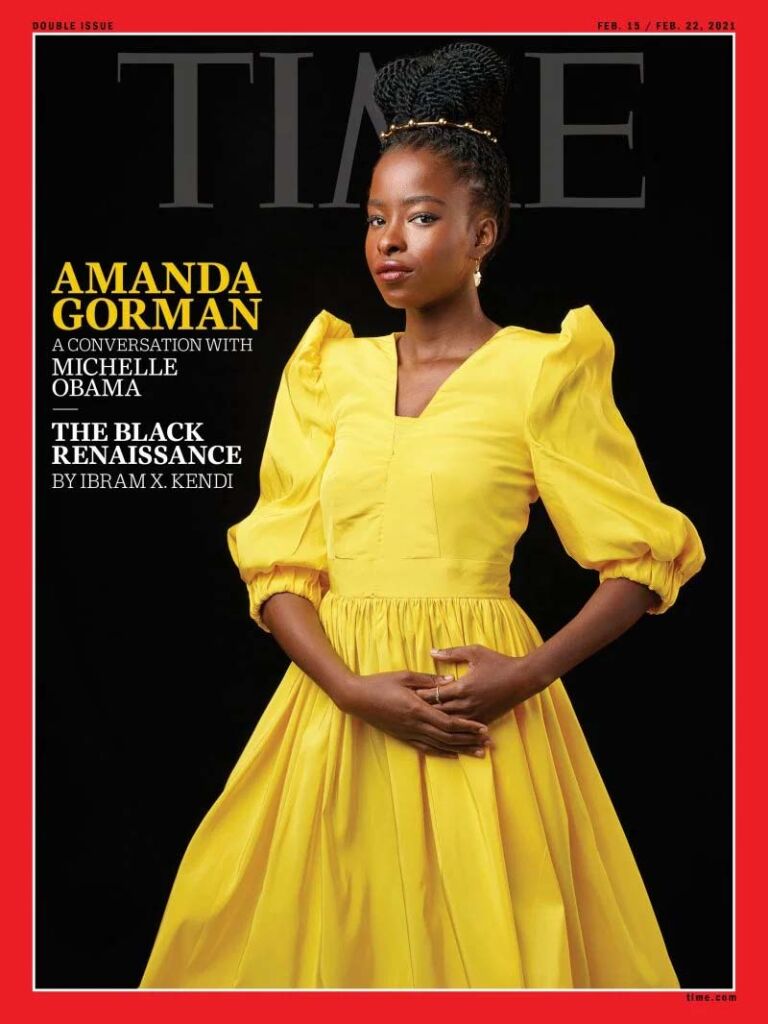 Amanda Gorman, the 22-year-old US national youth poet laureate, wowed millions worldwide who viewed the inauguration ceremony of President Joe Biden on January 20, 2021, with the moving recital of her poem The Hill We Climb and her fashion statement.
For many on social media, Ms. Gorman copped the awards for both the best speech and sartorial statement. Her yellow coat and red satin headband, both by Prada, the Italian designer, have become hot selling items.
Ms. Gorman told Vogue that her choice of yellow was a nod to new First Lady, Dr. Jill Biden, "who was the one who recommended me in the first place, and I'm so honored by that." She said she had seen a video in which Dr. Biden was wearing yellow and "I loved it".
Amanda Gorman, now regarded as a fashion sensation, recently signed with IMG Models, where she will "be represented … for brand endorsements and other fashion-adjacent opportunities", according to The Business of Fashion.
The February 15 issue of Time Magazine features Amanda Gorman on its cover wearing a creation by Greta Constantine (GC), a line of women's wear designed by the creative duo Kirk Pickersgill and Stephen Wong of Toronto, Canada.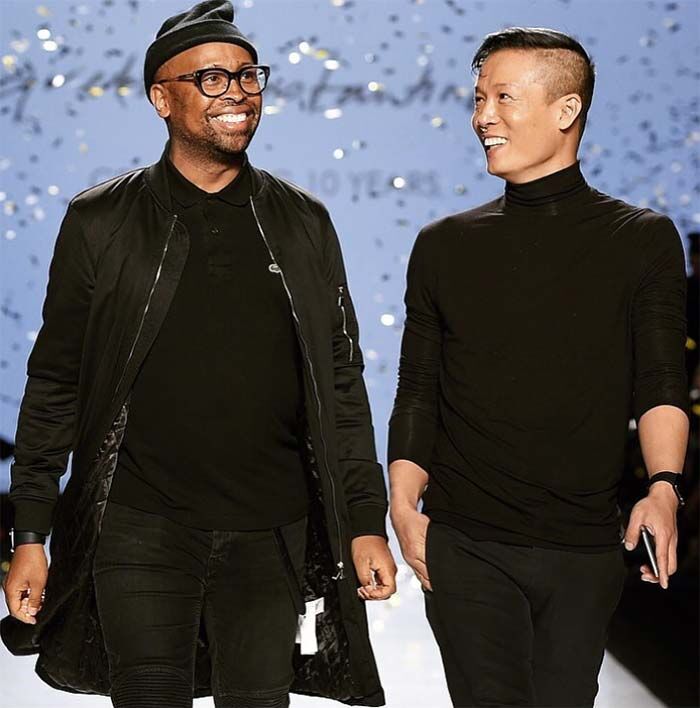 In 2016, the Canadian Arts & Fashion Awards (CAFA) recognized Greta Constantine as Womenswear Designer of the Year. FASHION Magazine also distinguished the label as Best Fashion Show and Best Hair for its Fall 2016 showing at Toronto Fashion Week.
Greta Constantine has emerged as Hollywood Red Carpet and favorite of Royals: Yara Shahidi, Mindy Kaling and Meghan Markle have all recently worn pieces by the Canadian luxury label.
Both Pickersgill and Wong were born in Kingston, Jamaica.
Pickersgill together with his parents and two sisters migrated to Canada when he was only a year old. In 2017, he told the Jamaica Observer: "Many say that I am not a real Jamaican given my brief stay, but both my parents, to this day, instill our day to day with our proud Jamaican roots". He also says that his many trips to Jamaica to visit relatives and do business make him feel he has not left.
Wong says he is the third generation of his family to be born in Jamaica.
Wong and Pickersgill, who became friends in the early '90s while they were neighbours on Queen St. W. in Toronto, both worked in the fashion industry: Pickersgill worked in Milan styling and teaching, while Wong remained in Toronto working on wardrobe for the growing film industry.
Though both friends had always spoken about doing a collection together, it wasn't until 2006 that they created their label, which derived its name from the pairing of Wong's mother's name (Greta) and Kirk's grandfather's name (Constantine).
Following Time's selection of Amanda Gorman wearing the Greta Constantine creation for its February cover, Fashion Magazine spoke to Kirk Pickersgill about the process of the submission of the creation and his reaction to its selection.
Pickersgill stated that the process was truly organic from start to end. "We received a note from our showroom team in Los Angeles that a stylist we often work with, Jason Bolden, was in need of a pair of dresses from our Spring 2021 collection for Amanda Gorman." The dresses were packed and sent overnight to Los Angeles.
Pickersgill later learnt, by telephone, from Brooke, the founder of GC's LA showroom: "It's official. You got the cover." He said he was speechless. "Truthfully, I grew very emotional," he said.
"The accomplishment was a testament to our hardworking team … and also validation of our brand. It was recognition of our Jamaican roots and Canadian upbringing. It was an approval to be and look different in an industry that has a tendency to look very much the same. And what excited me most was that this photograph was so much more than the fashion. It was about capturing a moment in history that celebrates Black creativity in all its beautiful, challenging, inspiring forms." said Pickersgill.