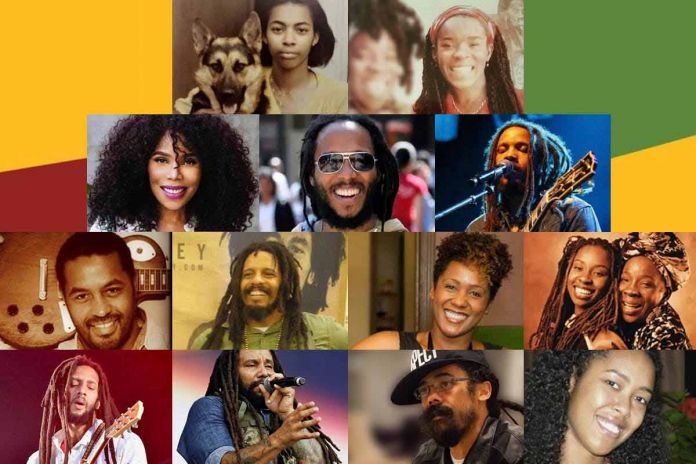 Bob Marley's children are all fully grown. However, the fact that he fathered several of those children with diverse women in promiscuous affairs, while being married, continues to scar his rich legacy, four decades after his passing.
While the examination of Marley's private life perdures, his music continues to stimulate social, political, and emotional consciousness globally. His album Legend, released in 1984, is one of the best-selling albums of all time: It has sold more than 11 million copies in the U.S. and has spent 686 weeks (13 years) on the Billboard 200. In fact, only Pink Floyd's Dark Side of the Moon, which is nearing 1,000 weeks on the chart, is ahead of Marley's Legend.
Additionally, several of his descendants have carved out extremely successful music and business careers of their own.
Undoubtedly, Bob Marley has had a profound impact not only with his music but also in the bedroom.
Given the context of Marley's upbringing, his relationship with Rita Marley, and her own promiscuity, are the scathing criticisms about his marital infidelity fair or justified?
Bob's early childhood influences
Marley never knew his biological father and came to recognize Mr. Thaddeus Livingston, the father of Neville Livingston (Bunny Wailer) as his 'adopted' father. In fact, it was Mr. Livingston, with whom Ms. Cedella Booker, Bob's mother, had a daughter, Pearl Livingston, who was responsible for relocating Bob and his mother to Kingston: A move which provided the foundation for Marley's iconic career.
Mr. Thaddeus Livingston, whom his son Bunny Wailer referred to as a 'cocksman' (a womanizer), had many children with several different women, even whilst married to Bunny Wailer's mother. In fact, Pearl Livingston, whom he begot with Marley's mother, was taken into his matrimonial household to be cared for by his wife when Ms. Booker migrated to the United States. Bob would adapt the same practice, in several instances, in his own marriage with Rita.
Marley's womanizing lifestyle was identical to that of Mr. Thaddeus Livingston, a man he loved and admired. Bunny Wailer adopted the same lifestyle: He fathered many children with several different women and had his lifelong live-in spouse, Jean Watt, providing maternal care for several of the children though she bore no children of her own.
Peter Tosh also had several children with different women.
And as we will see, women were hardly any different. It was very common then, and things have not changed, for women to have several children with different 'baby fathers.' Rita has three children (Sharon, Stephanie, and Serita) for men other than Bob. She bore Stephanie during her marriage to Bob.
Promiscuity and adultery were part of the culture in which Marley lived. Why should we expect any different or higher standard from him?
Children Bob & Rita brought to their union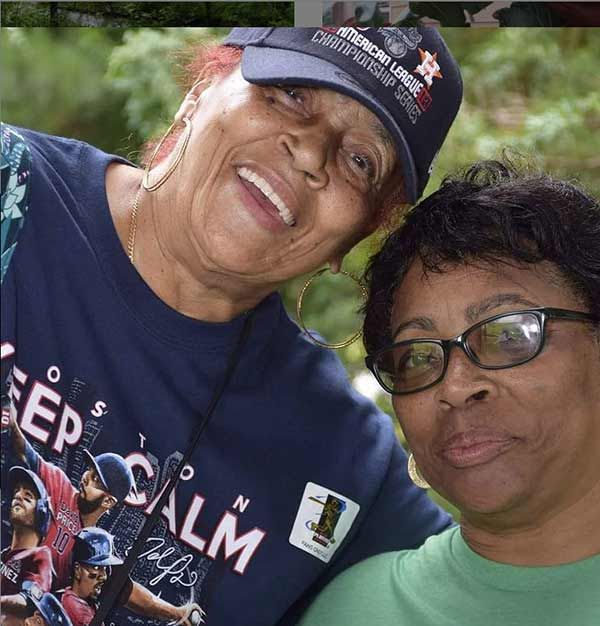 Imani Carole Marley was born to Bob Marley and Cheryl Murray on May 22, 1963. Only 18 years old when he begot her, Imani has the distinction of being the first of Bob Marley's children. Imani currently lives in Atlanta, Georgia.
When Bunny Wailer died earlier this year, she expressed condolences on her Instagram page and referred to him as "uncle Livi", (short for Livingston, Bunny's surname). Bunny and Bob grew up like brothers.
It is unknown why Imani is not acknowledged as one of Bob Marley's children on the official Bob Marley website.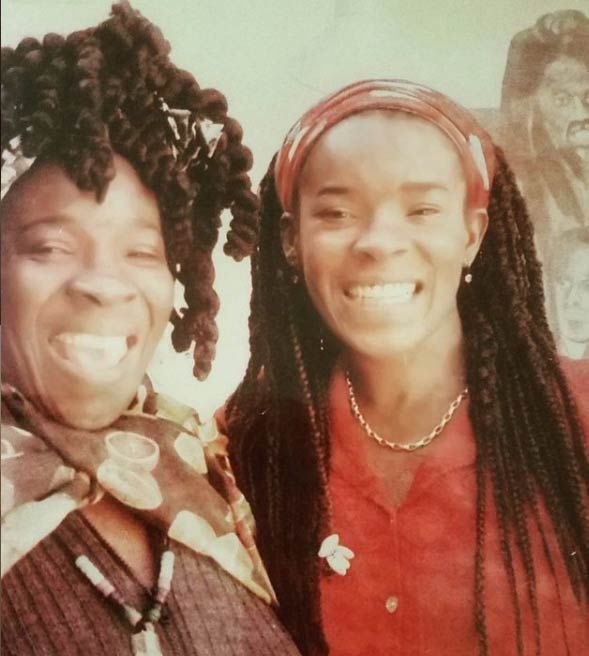 On November 23, 1964, Rita Anderson, at 18 years old, gave birth to Sharon Marley. Bob adopted her after his marriage to Rita and so she took on his name.
Bob and Rita wed secretly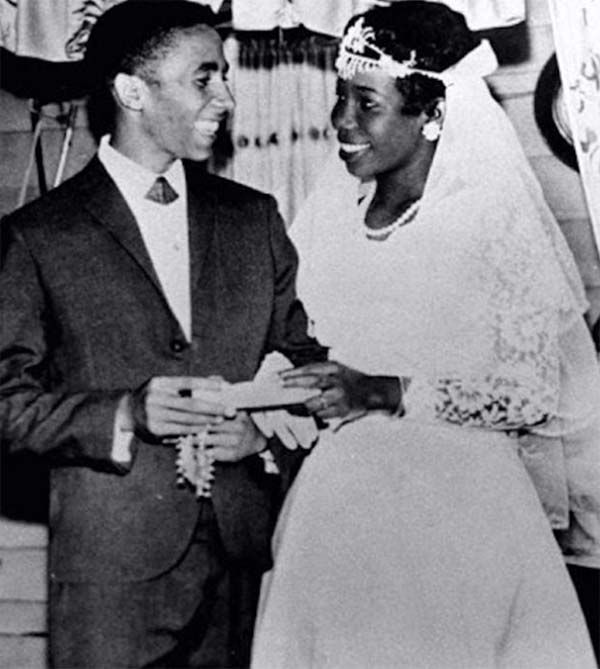 On February 10, 1966, less than fourteen months after they had met and the day before Bob was to depart for the United States to assume permanent residency, based on filings by his mother, he married to Rita in a secret ceremony.
Neither Bunny Wailer, who was a stepbrother to Bob, Beverley Kelso, a close friend of Rita, nor Peter Tosh was aware of the marriage. They were shocked!
Given the context within which the marriage took place, several persons close to Bob believed it was a marriage of convenience, but not for Bob.
Purportedly, Bob's green card was revoked because his filings listed his status as single, but as it turned out, he entered the United States as married: A clear case of misrepresentation of information.
After eight months in the United States, Marley returned to Jamaica in October 1966.
Bob's biological children with Rita
Together, Bob and Rita had three biological children: Cedella, David (Ziggy), and Stephen.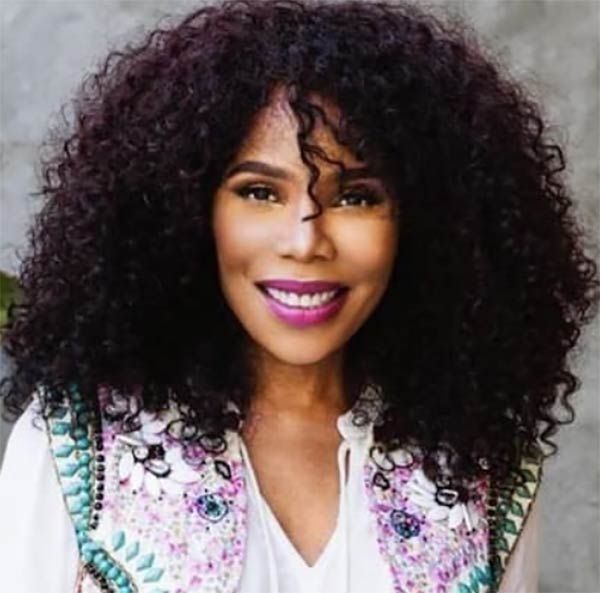 Cedella Marley, born on August 23, 1967, and named after Bob's mother, is the first of Bob Marley's children with Rita.
Cedella, along with her siblings Sharon, Ziggy, and Stephen, were members of the group Ziggy Marley and the Melody Makers.
Cedella, mother of Skip Marley, who has built a successful music career so far, is a clothing designer and CEO of Tough Gong International.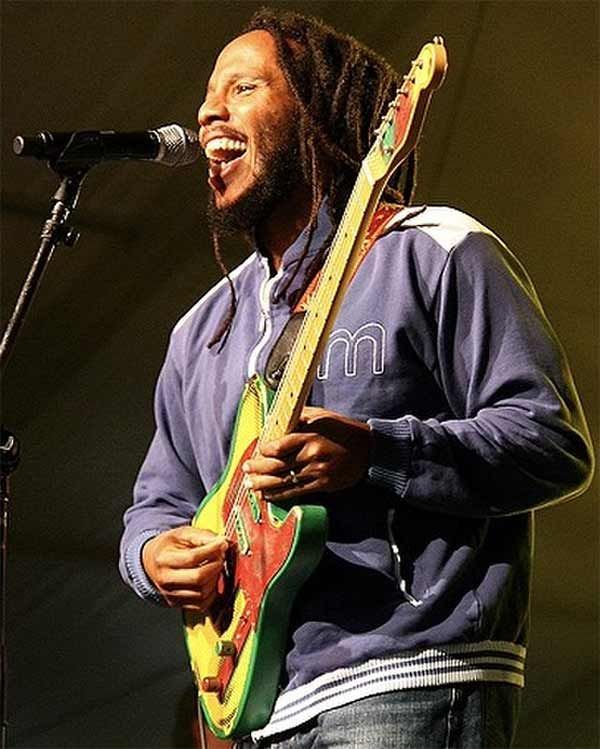 David Nesta "Ziggy" Marley, the second of Bob Marley's children with Rita, and his first son, was born October 17, 1968. He was the front man of the family band Ziggy Marley and the Melody Makers, with whom he released eight studio albums.
The group won three Grammy Awards for Best Reggae Album. Additionally, the group received eight Grammy Nominations.
As a solo artiste, Ziggy Marley has also released seven albums and won five Grammy Awards. With a total eight Grammy Awards, Ziggy is the most successful Jamaican Grammy Awardee. He is also a Daytime Emmy Award recipient.
Marley is the founder of U.R.G.E. Foundation, which is dedicated to making enduring contributions to the lives of children in Jamaica, Africa and throughout the world.
Stephen Marley, born April 20, 1972, is Bob's and Rita's last child together. He was a member of the band Ziggy Marley and the Melody Makers, in which he played guitar and drums, and shared in the songwriting and lead vocals with Ziggy.
Stephen Marley has won eight Grammy Awards, three with Ziggy Marley and the Melody Makers, and five in his capacity as artiste and producer. He has received eleven Grammy Nominations.
Bob was instrumental in the formation of the group Ziggy Marley and the Melody Makers.
Estrangement
It is not clear when Bob and Rita started living apart, but in 2004, while promoting her memoir No Woman No Cry: My Life with Bob Marley, Rita claimed Bob Marley raped her in 1973. She reportedly told the Daily Mirror that she had refused consensual sex with Marley because of his infidelity. Refusing to take no for an answer, he raped her, she claimed. She later said the press had misquoted her.
After moving from Bull Bay, Rita and the Children lived on Washington Drive, off Waterloo Road, but Bob was not known to have resided there.
Rita and the children then moved to Skyline Drive in Jacks Hill, but again Bob was not known to have lived there.
Marley acquired 56 Hope Road in 1975 and lived there alone until his death in 1981.
For the most part, Bob and Rita lived apart during their fifteen years of marriage (1966-1981).
Bob's biological children from extramarital affairs
Though Marley had eight biological children outside of marriage, his first child, Imani Marley, was born before he married. Only those children, begotten during his marriage, are listed here.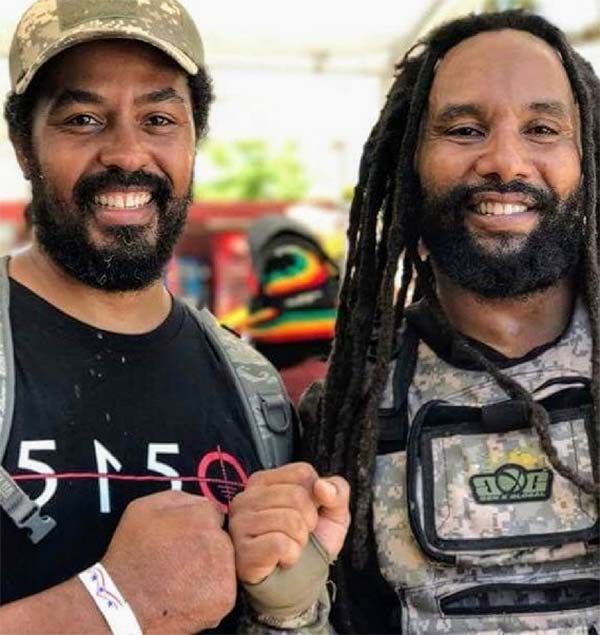 Robert "Robbie" Marley, whose mother is Pat Williams, was born May 16, 1972, less than one month after Stephen. Robbie is the first of Bob Marley's children from an extramarital affair. From an early age, he was brought to live with Rita.
Robbie has shunned music and opted instead for graphic design and motorcycle stunt riding.
Rohan Anthony Marley was born May 19, 1972, three days after brother Robbie and a month after brother Stephen. At four years old, Rohan was brought to live with Bob and Rita because his mother, Janet Hunt, purportedly was not caring for him properly. Branded as a trouble-maker, Rohan was eventually sent to live with Bob's mother in Miami.
Rohan was a linebacker at the University of Miami and fathered five children with singer Lauren Hill.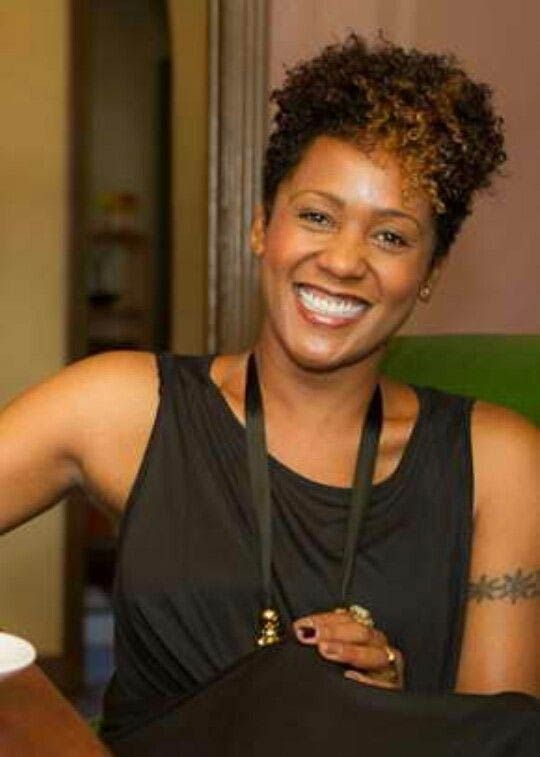 Karen Marley, the third of Bob Marley's children born outside his marriage, was born in England on February 26, 1973. Her mother is known as Janet Bowen. Karen grew up in Jamaica with the Marley's.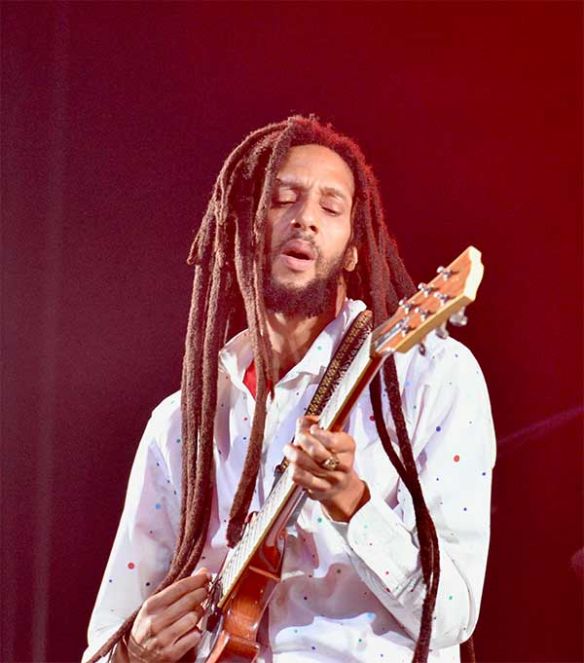 Julian Marley was born June 4, 1975,in London and raised by his mother, Lucy Pounder. Julian, a self-taught musician, is a singer, songwriter, and producer. He has four albums to his credit. His third album, Awake, received a Grammy nomination in 2009.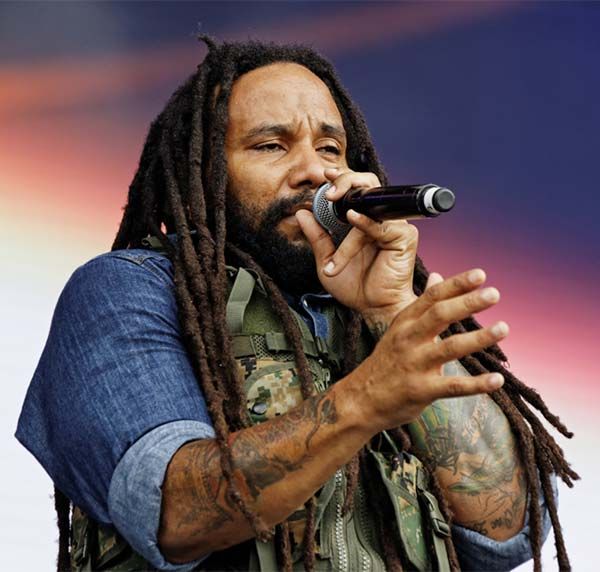 Ky-Mani Marley was born February 26, 1976. His mother, Anita Belnavis, is a former Jamaican and Caribbean table tennis champion. Ky-Mani lived with his mother in Falmouth, Jamaica, in his early childhood before emigrating to the United States where he was raised in inner-city Miami.
Initially, Ky-Mani was more interested in sports but later switched to music. His debut album, Like Father Like Son, was released in 1996.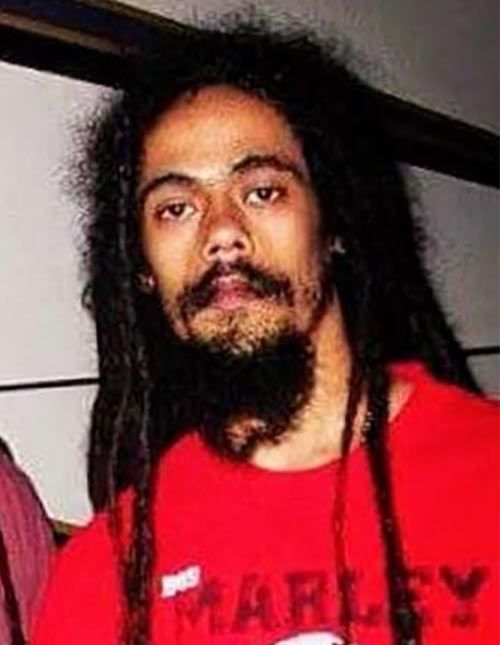 Damian Robert Nesta "Jr. Gong" Marley, Bob's youngest son, was born July 21, 1978, one year and eight months after his mother Cindy Breakspeare won the Miss World Competition in November 1976. Cindy Breakspeare was Marley's most renown and celebrated girlfriend.
It is worthy of note that Damian's given names "Robert Nesta" were his father's. Also, Damian is nicknamed "Jr. Gong" after his father, one of whose nicknames was "Gong".
Jr. Gong is a dancehall reggae artist. He has won four Grammy Awards and received five Grammy Nominations.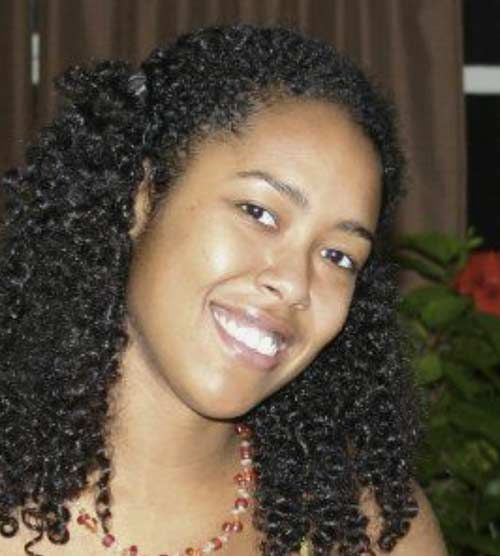 Makeda Jahnesta Marley, the youngest of Bob Marley's children, was born May 30, 1981, in Miami, where her father died two weeks earlier. Not much is known of Makeda's mother, Yvette Crichton.
Makeda attended high school and college in Pennsylvania. A trust fund from her father's estate was established for her and she admitted receiving same when she turned 18.
In 2008, Makeda was arrested after police claimed they found her removing plants, later identified as marijuana from her basement. She subsequently pleaded guilty to having "nearly a dozen" large marijuana plants inside her home in Cain, Pa., which is approximately 30 minutes west of Philadelphia.
Rita's extra-marital children
Prior to meeting Bob, Rita had a daughter, Sharon, whom Bob adopted upon marrying Rita.
Stephanie Marley, born August 17, 1974, is purportedly the biological daughter of Owen "Ital Tacky" Stewart, a former Harbour View Football Club and Jamaican soccer player, with whom Rita Marley allegedly had an extramarital affair.
"Ital Stew" as he is popularly known bears a strikingly close resemblance to Bob. Though Bob's marital relationship with Rita was estranged at the time, he nevertheless adopted Stephanie as his own, giving her official recognition as one of his children, thereby entitling her to his estate.
Four years after Bob's death, Rita gave birth to another daughter for Owen "Ital Stew" Stewart. Serita Stewart was born on August 11, 1985.
Why was there no divorce?
Despite the many instances of infidelity, why did neither Bob nor Rita file for divorce?
Was extramarital affairs mutually acceptable to both Bob and Rita? During their marriage, they had eight children with other partners: Bob with seven and Rita with one.
She cared for several of his "outside" children, and he readily adopted her extramarital child with Owen "Ital Stew" Stewart.
Both had compelling reasons not to end their marriage.
For Bob's part, being married provided no restraint on his womanizing and Rita had no problem in taking in and caring for his children when the need arose.
Those close to Bob, know that he would have had no appetite for divorce proceedings, especially when he had nothing to gain.
Rita loved Bob and knew his "value" and was not prepared to simply walk away. In the end, her decision has paid off handsomely.
Are criticisms of Bob Marley justified?
Bob Marley may not be whom you would regard as a good role model. But is it fair to expect him to be, given the models he had and his life experiences?
Should he have exercised more responsible behavior such as abstinence or wearing condoms, both birth control techniques? His religious and cultural beliefs did not support birth control. But the women with whom he slept also had the responsibility of using birth control. Two women who did so were Esther Anderson and Pascaline Bongo Ondimba.
Pascaline, whom Marley dated from 1980-81, is the daughter of El Hadj Omar Bongo Ondimba, the second President of Gabon (1967 until his death in 2009). She spoke about her relationship with Marley in the documentary film Marley (2012). She said Marley wanted her to have a child for him, but she, like Esther Anderson, insisted on using birth control.
Esther Anderson, celebrated Jamaican actress and film maker, who made the film Bob Marley: The Making of a Legend, and with whom Marley had an extended and endearing relationship, relates that Bob wanted her to have a child for him, but she insisted on taking birth control. He felt their love was strong enough for them to have a child together. It was a sin, he thought, to "kill his seed".
Ms Anderson, who helped pen the lyrics for I Shot the Sheriff, regarded as an anti-birth control anthem, clarified the context of the lyrics of that mega hit.
According to Ms. Anderson, the doctor who prescribed those baby-killing pills was depicted as the sheriff [John Brown].
Sheriff John Brown always hated me,
For what, I don't know:
Every time I plant a seed,
He said kill it before it grow.
Marley's love for children, sex, and his view on birth control is reflected further in this quote of his: "Children are wonderful. It don't take plenty y'know. Just a nice girl who don't take birth control. Sexual intercourse is a lovely thing."
Bob Marley loved all his children and has never been accused by any of his children's mother as being a dead-beat dad. He provided for them whilst he was alive and continues to do so even though dead for four decades.
His everlasting commitment to caring for his children is reflected in his song So Jah Seh:
So Jah seh,
Not one of my seeds
Shall sit on the sidewalks and beg bread,
No they can't and you know that they wont.
Whatever your views are about Marley's extramarital affairs, which seemed as no big deal to his wife, none of his children is on the sidewalk begging bread and they are doing more to advance his legacy, than to hurt it.
Marley's prolificacy both in the studio and the bedroom will continue to add value to people's lives for generations to come.
Long live Jah Muzik!