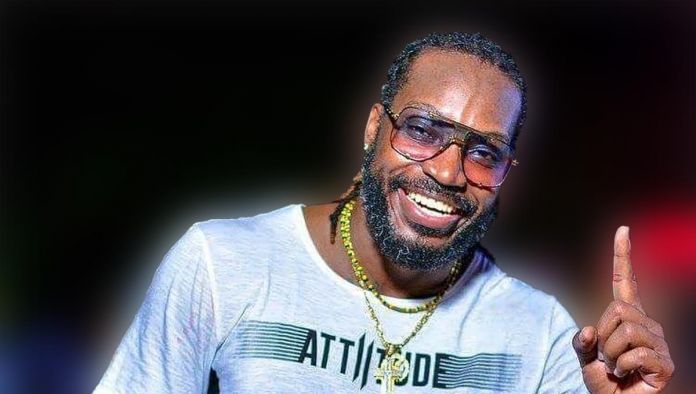 What began as a joke is fast becoming a second career choice for Chris Gayle. The hard-hitting Jamaican batsman, who has thrilled spectators throughout the cricketing world over the past two decades seems to be considering music seriously as a post-cricketing career. It would fit perfectly with his swashbuckling partying lifestyle.
For some time, Chris Gayle, the self-styled 'Universe Boss', who has been flirting with music, is now taking his shot at it.
His first appearance on the music scene came when he made a short cameo in the intro to the official music video of Ding Dong's hit single "Cha Cha Bwoy" back in 2018. Chris Gayle features as the Universe Boss himself at the beginning of the video where he pulls up in his cash rich customized Bentley before hooking up Ding Dong with some hot rides and "cha-cha girls".
Chris Gayle made his musical debut in 2020 when he teamed up with dancehall artiste Stylo G for the Remix of "Too Hot". The Universe Boss took us all by surprise when he dropped his verse on the remix with some smooth flow and hitting punchlines in his lyrics.
What is interesting about that unlikely collaboration is that it began as a joke. Gayle revealed in an interview with SportsMax in February that, "I did the first song with Stylo-G and it was a joke I was running."
Gayle went on to explain, "I said, Stylo-G I should be on that remix and eventually he turned up at my house and said he was ready. I said 'what, it was a joke."
"So anyway, we went to the movie theatre room (at his house) and he started to show me the ropes and eventually I delivered the music and it turned out to be a hit," he said with pride.
The 41-year-old Chris Gayle has never been short of confidence in his own abilities, but he seems to have been as genuinely surprised as most of us were at how good the reaction to his first release was. Now in the twilight of his storied playing career, he realized that the music industry present a real opportunity for him to forge the next chapter of his life which he feels will be a natural transition for him.
"I find it very enjoyable. I've grown up surrounded by music and sport. It's a big part of our Jamaican culture and it's in our blood," Gayle said with great fondness in an interview with The Statesman last year.
Gayle followed up his collaboration with Stylo G by featuring on the dance track "Groove" with Avina Shah, a British-Indian singer. The song shows off his versatility and charm, atypical of a musical newcomer.
Avina, speaking on "Groove Behind the Song", praised the celebrated cricketer as an "absolute legend, who is not just a talented sportsman but is super talented in music as well", and revealed that having Gayle featured on the track was the highlight.
Gayle's collaboration with Tanto Blacks, the eccentric and flamboyant dancehall artiste, on "We Come Fi Party", adds to his growing catalogue. Tanto Blacks and the Universe Boss went into the studio and cooked up a high-octane song which highlights the party and nightlife culture in Jamaica.
The music video features scenes from Gayle's popular Triple Century Sports Bar in New Kingston, Jamaica, with the two high rolling patrons having the time of their lives.
Chris Gayle released his first single — "Living di Life" — on his birthday in 2020. This track is the legend personified as Gayle sings about his lavish lifestyle, showcasing his flashy cars and big mansions.
Known for being somewhat of a playboy who loves the high life, the theme of his first solo project comes as no surprise. However, what came as a mild surprise was how well he delivered on the track without a supporting act.
"Living Di Life" premiered on YouTube three months ago and has already racked up over 100 thousand views: not bad for his first single.
Chris Gayle gave his clearest indication yet that he's determined to make his mark in the music industry when he announced his own record label called Triple Century Records in February with this release of his second single "Blessings" which is his coming-of-age song as it chronicles the life of a young boy with a dream.
Speaking in an interview with SportsMax last month, Gayle talked about his plans for his budding music career.
"I have a lot more songs in the pipeline and I did the single 'Living di Life' so I decided to start my record label Triple Century Records," he said. "I am going into production and voice myself as well. It's fun and I am beginning to enjoy it. He revealed that he has a number of songs that have not been released as yet.
On April 11, Chris Gayle released 'Jamaica to India', a collaboration between himself and Emiway Bantai, one of India's most celebrated rappers. The song rocketed to the top of the charts in India and received more 18 million views on YouTube within days, making it Gayle's biggest hit to date. 
Chris Gayle never seems to stop amazing us, first on the field with his destructive display of dominance with the bat and now in the music industry with his cool flow, charisma, and catchy lyrics.
As Chris Gayle prepares to move from the cricketing arenas to the dancehall, the big left-hander has the swag, charisma, and love for the party lifestyle that will ease the transition. With his larger-than-life persona, he won't be content with being a mere participant. He will aim at exceeding boundaries and expectations. Who dares bet against him?