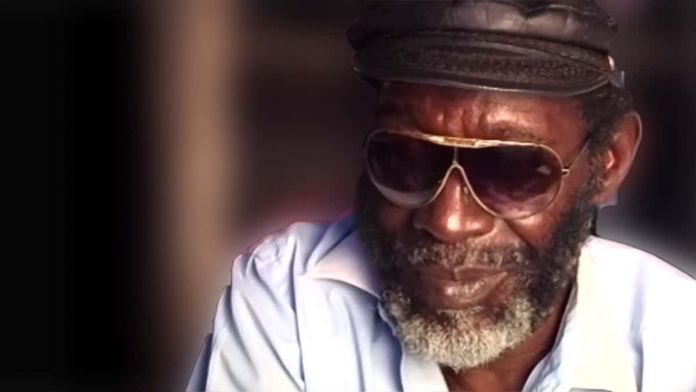 Winston Cooper, more commonly known as Count Machuki, is regarded by many music historians as the father of Deejaying and Rap. He revolutionized the role of the sound system disc jockey (DJ) from being merely a selector to one who used a microphone to toast over a track, make rhythmic vocal sounds, and interact with his audience.
Machuki's year of birth is often stated as c.1939, but sources, including a next-door neighbor, close to the legendary toaster have confirmed to Jamaican Life & Travel that his year of birth is closer to 1929. That would make him approximately 21, rather than 11 years old when his career began in 1950.
Count Machuki worked for Tom the Great Sebastian, a sound system regarded as the first commercially successful sound system in Jamaica. The sound system was owned by Tom Wong, a Chinese-Jamaican, who operated a hardware store at the corner of Charles Street and Luke Lane, two blocks from Machuki's home on Matthews Lane, in the heart of West Kingston.
Count Machuki: How it all began
Count Machuki recalled getting his first break, as a disc selector, on December 26, 1950 (Boxing Night). Tom the Great Sebastian was playing at Forresters Lawn and liquor was selling at a fast clip.
Tom Wong opted to leave the venue to go get liquor to replenish the rapidly dwindling stock, and asked Machuki to select the discs in his absence. Machuki recounted that the crowd loved his selections.
Count Machuki eventually parted ways with Tom Wong because, as Machuki claimed, Tom shifted the playing base of his sound system to the upscale Silver Slippers in Cross Roads to avoid sound system clashes, which Machuki relished, with the likes of Nick the Champ and Duke Reid's the Trojan.
Machuki's next break came when he attended a send-off party at which Sir Coxsone's Downbeat, a sound system owned by Clement Dodd, was playing. As fate would have it, Machuki recounted that he had left his handkerchief at home inadvertently and decided not to dance, fearing that his shirt would be drenched with perspiration: a condition he loathed.
In order to occupy his time, Count Machuki asked to help with disc selection. Clement Dodd was impressed with Machuki as a selector and his dexterity with the turntable and recruited him that night.
It was while with Sir Coxsone's Downbeat that Count Machuki first toasted on the microphone, while selecting records. He also created vocal sounds he referred to as peps, which share commonality with what is now known as beatboxing. The video below demonstrates beatbox sounds.
With Count Machuki as its main selector, Sir Coxsone's Downbeat and Duke Reid's the Trojan engaged in many epic sound clashes along North Street (then known as "Beat Street"). The dance halls they operated from on North Street — Forresters Hall and Kings Lawn — were separated only by Love Lane.
Whilst at Sir Coxsone's Downbeat, Machuki recruited King Stitt, who himself became a dancehall legend.
When Machuki left Sir Coxsone's Downbeat to join Prince Buster's Voice of the People sound system, Stitt took over as lead deejay for sound system #1 and U-Roy was given control of sound system #2.
Unfortunately, Machuki had only few recordings: below is a sampling of three.
More Scorcha - Count Machuki
Movement - Count Machuki
Pepperpot - Count Machuki & Randy's All Stars
Update Required
To play the media you will need to either update your browser to a recent version or update your
Flash plugin
.
The popularization and growth of DJing
U-Roy, who eventually left Sir Coxsone's Downbeat, went on to commercialize and popularize deejaying with monster hits such as Wake the Town and Wear You to the Ball, cited Machuki as a major influence on his work. He praised Machuki for not crowding the music when he is toasting, allowing listeners to hear the words of the vocalist clearly. It is a style that U-Roy emulated.
U-Roy's commercial success opened the door for a succession of DJs, such as Big Youth, Dennis Alcapone, Scotty, Trinity, and Dillinger, who followed. While Deejaying was deepening its roots in Jamaica, it was eyeing shores afar.
The birth of Hip Hop and Rap
In 1967, Clive Campbell, then 12 years' old, migrated to New York from Jamaica with his family. Adopting the moniker DJ Kool Herc, and setting up a sound system with equipment he accessed from his father, a technician in a local band, he and his sister, Cindy, decided to throw a party in their West Bronx apartment in 1973.
DJ Herc's music setup included two turntables and a mixer, which allowed him to switch seamlessly between records. The double turntable also enabled him to extend the breakbeat on records by playing the same record on two turntables and cueing the "break" in the record, a method he pioneered and which was emulated all over the NYC area during the 1970s, thus giving birth to Hip Hop.
At the said 1973 party, DJ Herc also toasted over and between tracks as his dancehall precursors were doing back in Jamaica. The toasting allowed him to engage his audience and build rapport with them. Just as toasting led to Deejaying in Jamaica, it evolved into Rap in the US.
DJ Herc is recognized widely as the pioneer of Hip Hop.
Count Machuki not only introduced innovativeness in the dancehall, but style and fashion. A next-door neighbor told Jamaican Life & Travel that Machuki was always nattily dressed: He would spend hours burnishing his shoes in preparation for dances. He usually wore suits on occasions he was merely a patron, and white shirt and black pants, with pronounced seams, when he was working the turntable.
Count Machuki passed away in 1995: His financial standing bore no evidence to the two multibillion-dollar music genres – Deejaying and Hip Hop – for which he unwittingly laid the foundation from his innovativeness in Jamaican dancehall in the 1950s. Notwithstanding, his legacy will endure.