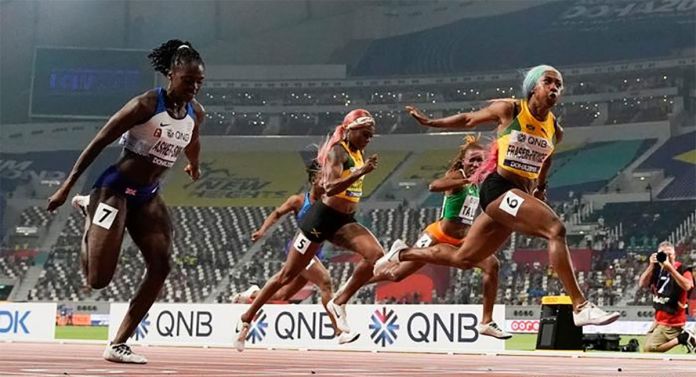 Shelly-Ann Fraser-Pryce's emphatic victory in the women's 100 metres final at the 2019 World Athletics Championships in Doha underscored her dominance in female sprinting since the Beijing Olympics in 2008. After her impressive performance in Doha, Michael Johnson, eight-time world champion, declared her the greatest female sprinter of all time. World Athletics refers to Fraser-Pryce as "the greatest female sprinter of her generation" and according to Track and Field News, "Some think of her as the greatest female sprinter in history."
As a junior, Shelly-Ann's career was checkered. Her performance at Boys and Girls Champs, the cradle of most world-class Jamaican athletes, was unflattering. At the 2002 Central American and Caribbean Junior Championships, she placed fourth in the girls' under-seventeen 200 metres in 25.24 seconds and was a member of the 4×100 m relay team which won gold in a championship record of 45.33 seconds. At the regional Carifta Games in 2005, she placed third in the girls' under-twenty 100 metres finals in 11.73 seconds: Kelly Ann Baptiste of Trinidad and Tobago won in 11.39 seconds. At the same games, Fraser-Pryce was a member of the under-twenty girls' 4×100 metres relay team that won gold.
In 2007, Fraser-Pryce was selected on Jamaica's team to the World Athletics Championships in Osaka, Japan. She was a reserve member of the women's 4×100 m relay squad that won a silver medal: hardly a harbinger of what was to unfold at the Beijing Olympics a year later.
Surprising many, Shelly-Ann placed second in the 100 metres final at Jamaica's National Athletics Trials in 2008, which qualified her to represent Jamaica in the Beijing Olympics later that year. It was suggested that she cede her place to represent Jamaica in the 100 metres in Beijing to Veronica Campbell-Brown, her illustrious compatriot, who failed to place in the top three at the Trials. Fraser-Pryce and her coach, Stephen Francis of MVP, gave deaf ears to the suggestion and the rest is history. Fraser-Pryce shocked the athletics world by rocketing to victory in the 100 metres final in Beijing. Her winning time of 10.78 seconds was a personal best and she became the first-ever Jamaican or Caribbean female sprinter to win an Olympics 100 metres final.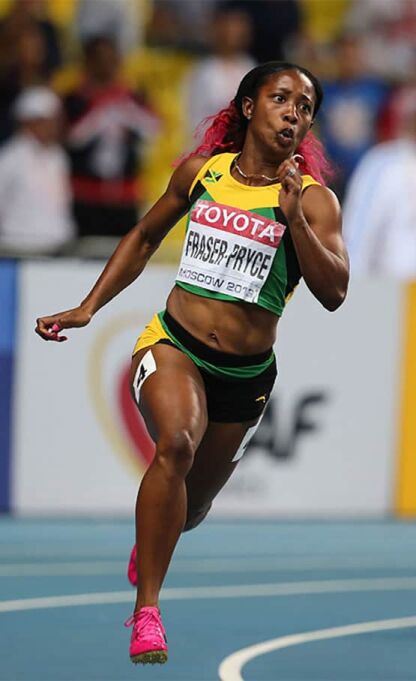 No one anticipated the level of dominance Fraser-Pryce would have in female sprinting over the next decade, that would make her the greatest female sprinter, certainly of her era. She has figured prominently in all the Olympic games since 2008, adding another gold medal in 2012 and a bronze in 2016. She has been even more successful in World Athletics Championships, winning the 100 metres in 2009, 2013, 2015 and again in 2019. She also won the 200 metres in 2013, thus becoming the first woman to win golds in the 100m, 200m and 4×100m in the same World Championships.
Over the decade that she has been active in the sport, only in 2011 when she was not in her best shape and in 2017 when she was pregnant and did not compete, has she not won any World Championships medal. Fraser-Pryce has won a total of 6 Olympic medals: 2 gold, 3 silver and 1 bronze and 11 world championships medals, comprising an astonishing 9 gold and 2 silver medals. She is also a 4-time Diamond League champion: 100 m winner in 2012, 2013, and 2015; and 200 m winner in 2013.
Fraser-Pryce's accomplishments at the international level speak to her dominance in track and field spanning her career since 2008.
Why is Fraser-Pryce the greatest female sprinter?
To be considered the greatest of all times in any sport is not a designation that is taken lightly. Such person must have a record of dominance over a long period and have achievements that no other in their sport has managed to obtain. Shelly-Ann Fraser-Pryce is as great a candidate as any, in the history of female sprinting, to be considered the greatest of all time.
Fraser-Pryce is the only female sprinter to win 4 World Athletics Championship 100m titles; astonishingly wining her 4th title just over a year after giving birth and at the age of thirty-two. This title made her the oldest ever woman to win the 100m World title and only the second mother to do so. Fraser-Pryce is also the only woman in history to win a medal in three consecutive Olympic games in the 100m and the only woman to win the 100/200m double and 4×100 m relay at a single World Championship games (Moscow 2013).
Fraser-Pryce has overcome adversities, risen above self-doubt and demonstrated a level of resilience and determination that is unparalleled. Her athletic achievements place her at the pinnacle of female sprinting: making her the greatest female sprinter.
Fraser-Pryce had indicated plans to compete in both the 100m and 200m at the Tokyo Olympics, previously scheduled for this year, a frightening prospect for competitors, given her dominant performance in Doha. Prior to the announced postponement of the Tokyo Games to 2021, US track legend Michael Johnson, addressing a media event before the 2020 Laureus World Sports Awards in Berlin, said that he would "put money" on the evergreen Fraser-Pryce winning the women's 100m final at the Tokyo Olympics.
Victory for Fraser-Pryce at the Tokyo Olympics would remove all doubt as to who is the greatest female sprinter of all time.
Prior to the widespread onslaught of COVID-19, Fraser-Pryce broached the idea of ending her track career in 2021 after the defense of her World Championship 100m title in Eugene, Oregon. With the Tokyo Olympics rescheduled for 2021, the World Championships may be deferred to 2022 or 2023. Given her age and family considerations, Fraser-Pryce now has to decide if she goes beyond the Tokyo Olympics in 2021.
In track and field, especially the sprinting events, age is more than just a number. Therefore, the rescheduling of the Tokyo Olympics could put the 33-year old Fraser-Pryce at a disadvantage against her younger competitors: most notably the vastly-improved Dina Asher-Smith and Elaine Thompson, double sprint champion in Rio, who is improving from Achilles injury.
However, setbacks and challenges tend to fuel Fraser-Pryce's passion for success, as it did in 2007 and 2008 when her legitimacy on Jamaica's squad to Osaka and Beijing were questioned. Given her determination and grit, if she is motivated enough to create history by becoming the first female sprinter to win three Olympics 100m sprint titles, it would be inadvisable betting against her.
Though her greatness in female sprinting is incontrovertible and her legacy assured, copping the 100m title in Tokyo 2021 would put her in a realm of her own, thus amplifying the point that Shelly-Ann Fraser-Pryce is the greatest female sprinter ever.