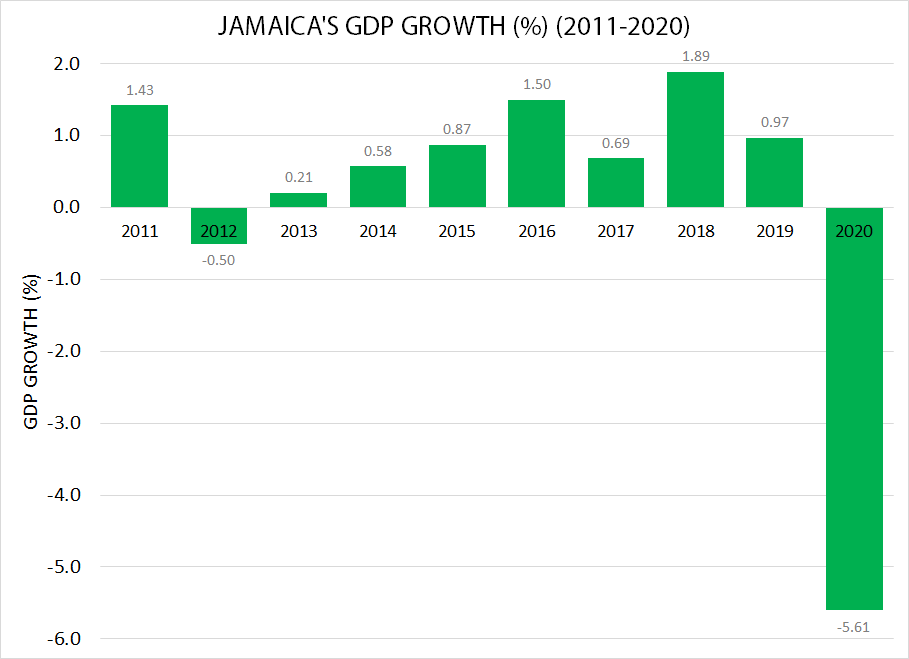 The Jamaican economy, which relies primarily on bauxite and mining, tourism, and agriculture, has experienced negligible economic growth over the last three decades. Reasons commonly proffered for the anemic economic performance are low productivity of a workforce that is widely under-educated and low-skilled, Jamaica's small market size, which limits economies of scale efficiencies, insufficient investment capital, and problems associated with micro and small businesses accessing loans from traditional financial institutions for investment.
Professor Densil Williams, in his Gleaner article of October 26, 2019, The Elusive Quest for Growth, summed up Jamaica's current economic predicament aptly: "given the limited market size of the economy, the major sectors that drive growth are structurally uncompetitive with their current offerings."
Could the creative economy be the solution to Jamaica's perennial anemic economic growth?
What is the creative economy?
The term 'creative economy' evolved from the term 'creative and cultural industries' defined as "those industries which have their origin in individual creativity, skill and talent which have a potential for job and wealth creation through the generation and exploitation of intellectual property" ('Creative Industries Mapping Document', DCMS, 2001).
Areas of activities encompassed by the creative economy include, but are not limited to, fashion, craft, culinary arts, galleries, libraries, museums, heritage sites, festivals, the performing arts, graphics design, software design, industrial design, publishing, radio, film and television, audiovisual products, and visual arts. The commonality of all those activities is that they convert original individual creativity into commercial and social outcomes.
Growth and benefits of the creative economy
The creative economy is one of the most rapidly growing sectors of the world economy and, according to UNESCO, employed almost 30 million people worldwide in 2015. The jobs the sector generates are, for the most part, good quality with significant social benefits.
World trade of creative goods and services in 2011 totaled US$624 billion, which more than doubled the amount for 2002. (UNCTAD Global Database on Creative Economy). According to a UNESCO report published in 2018 the creative economy is generating annual revenues of US$2.25 trillion and global exports of over US$250 billion. The report also states that these sectors are projected to represent approximately ten percent of global GDP in the years to come.
According to the United Kingdom's Creative Industries Federation, the UK's creative economy generated £91.8 billion in gross value added in 2016, which represented year-on-year growth of 7.6 %, compared with 3.5% for the economy as a whole.
In Australia, earnings from the creative economy grew from $86 billion in 2008-09 to $111.7 billion in 2016-17: a 30% increase. The earnings in 2016-17 equated to 6.4% of Australia's GDP.
An analysis of the UK's creative sector in 2001 indicates that it was "generating jobs at twice the underlying rate of the UK economy as a whole." Similarly, the workforce of Australia's creative economy, approximately 600,000, has been growing at a rate nearly twice that of the Australian workforce as a whole (Source).
Equally as important as the job-intensive nature of the creative economy.is the quality of the jobs the sector generates.
A 2013 study, which estimated that 47% of jobs in the United States were at risk of being automated, found that creative skills are some of the most likely to grow in employability. According to the report, "artists", for example, possess skill sets that entail high-level, subtle decision making that are less susceptible to machine substitution.
A unique feature of the creative economy is its contribution to cultural identity and social cohesion. Irina Bokova, Director-General of UNESCO, remarked that "While creating jobs, the creative economy contributes to the overall well-being of communities, individual self-esteem and quality of life, thus achieving inclusive and sustainable development."
Countries shifting focus to the creative economy
It is the general understanding among many countries that generating intellectual property is more valuable in the 21st century economy than manufacturing products. Consequently, many countries are shifting their focus from the production of goods and services: concentrating instead on the production and distribution of ideas and knowledge.
To facilitate the shift in focus, many countries have created an enabling environment – with the necessary policy, legislative and institutional framework and support – to exploit the robust growth of the creative economy. So what is Jamaica's position?
Jamaica's position on the creative economy
Successive Jamaican political administrations have been aware of the potential of an enabled creative economy but have failed to take timely action to exploit the exploding growth of a sector in which Jamaica has strong competitive advantages.
We need to recognise how important these industries are for both economic growth and national development imperatives.
Creative Economy 2010, published by the United Nations, points out that creativity represents one of Jamaica's most distinguishable assets and competitive advantages as a country and urges Jamaica to exploit its creative and cultural industries. It would be four years later that Jamaica would take any action.
On March 25, 2014, while addressing the first meeting of the National Cultural and Creative Industries Commission (NCCIC), which she had established, then Prime Minister, Portia Simpson-Miller said that Jamaica should position itself to take advantage of the tremendous benefits to be derived from the cultural and creative sectors. "We need to recognize how important these industries are for both economic growth and national development imperatives," she said.
On July 1, 2015, then Industry, Investment, and Commerce Minister, Hon. Anthony Hylton, speaking at a forum marking the 21st commemoration of International Reggae Day, said "The creative industry represents an important pillar of the country's growth agenda, and we are committed to supporting its growth and development through action. This is an area in which we have a strong competitive advantage."
Minister of Culture, Gender, Entertainment and Sport, Olivia Grange, contributing to the 2017/18 Sectoral Debate, pointed to the potential of Jamaica's creative and cultural industries and expressed frustration that enough was not being done to exploit the opportunities. She said "I am compelled to admit that in spite of tremendous global acceptance, certain aspects of our culture — the things that make us uniquely Jamaican — are still fighting for appropriate recognition, acceptance and support right here at home. It is rooted in a lack of appreciation and respect for the value of the culture and creative industries and their contribution to national development". The fact is, the value of Jamaica's creative industries is unknown.
Without scientific mapping of the country's cultural and creative industries there are no empirical statistics to determine, with any accuracy, the contribution of its creative economy to GDP. But should that give a pass for non-action?
Without knowing the overall economic contribution of its film industry, the US government protected and fostered that sector for almost a hundred years, not merely because of its value to the US economy but because it projected US culture and influence around the world.
Though Jamaica rank consistently among the top five of the most culturally important countries in the world, primarily because of its music (reggae), track and field, and its cuisine (jerk chicken), very little has been done to optimize their economic value to Jamaica.
Finally, in August 2019, five years after the establishment of the NCCIC, Jamaica took the first major step in the development of its creative economy by signing an Agreement with the British Council for the mapping of Jamaica' Cultural and Creative Industries. The completion of the exercise is estimated at two to three years.
As Jamaica moves forward in its quest to earmark its creative and cultural activities, through mapping, it is critical that appropriate legislative and institutional framework and support are enabled to exploit the country's creative economy.
A fully-enabled creative economy will demonstrate that creative and cultural activities, rather than bauxite and mining, provides Jamaica its greatest potential for sustainable economic growth.