Jamaica to India has scored big for Chris Gayle. The song, which was released on April 11, has rocketed to the top of the charts in India. Is the song's success any indication of the potential for reggae/dancehall in the sub-continent?
Jamaica to India is a collaboration between Chris Gayle, the Universeboss, and Emiway Bantai, one of India's most celebrated rappers. Since its premiere on Youtube on April 11, Jamaica to India has received 17.8 million views, far outpacing Koffee's Lockdown, which became the fastest track by a Jamaican reggae or dancehall artiste to realize one million views on YouTube in 48 hours.
The formula for the song's success seems evident. Combined with Gayle's goodwill in India is the star quality of Emiway Bantai, an immensely popular and favourite singer, rapper, and songwriter in India. He is best known for his song "Asli Hip Hop" in the film "Gully Boy" (2019), and has over 15 million Youtube subscribers, more than any other Indian artiste. His single, Firse Machayenge, which premiered on Youtube in February 2020 has more than 380.7 million views to date.
Gayle has expressed his pleasure regarding the seamlessness of the collaboration and the success of the track.
"The collaboration with Emiway (on Jamaica to India) came about by me just messaging him and suggesting that we do a track together and straight away he said let's do it! We recorded our parts separately and met up in Dubai to shoot the video. The synergy was awesome," said Gayle.
For his part, Emiway took to Instagram to post the picture and comments shown below.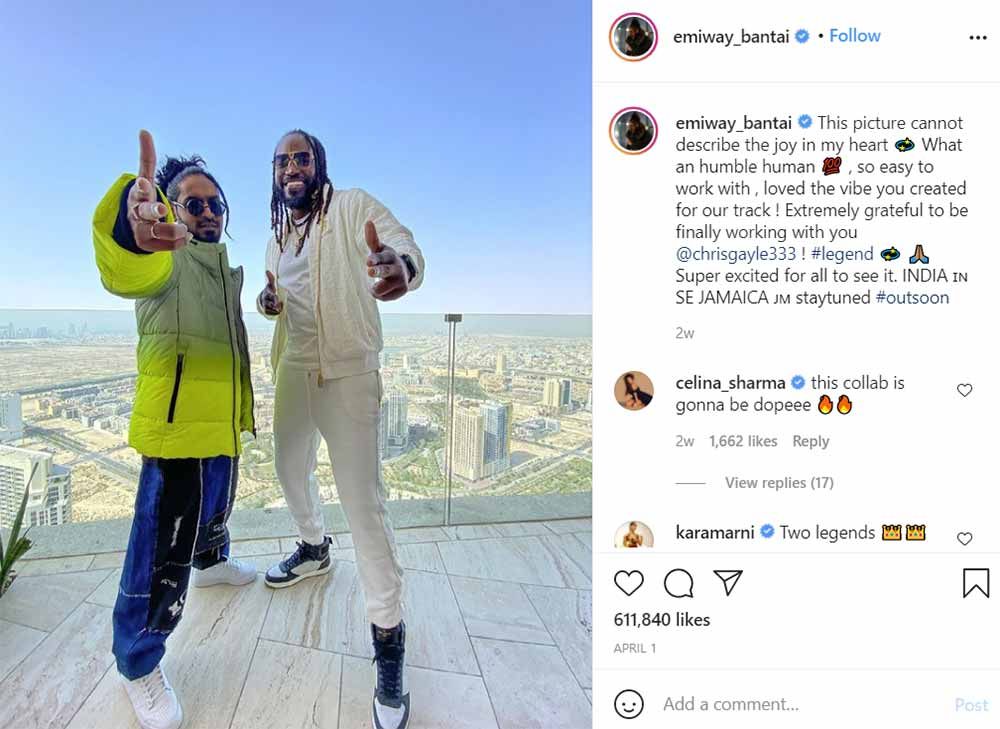 Is Jamaica to India a blueprint for reggae's success in India
Gayle's success in India is maybe a blueprint for other local reggae/dancehall acts to follow.
In a recent interview on Entertainment Report, Chris Gayle pointed to the power of Jamaican music and its potential in countries like India and Australia. He lamented that Jamaican artistes are unaware of what "they have in their hands."
He suggested that collaboration with someone well known in the target country is a good way of gaining entrée. And he has led by example. Other collaborations by Jamaican artistes with well-known and established foreign acts have been quite fruitful.
Lady Saw's collaboration with No Doubt on Underneath It All, was a major success. It became No Doubt's highest-charting US single and won a Grammy Award for Best Pop Performance by a Duo or Group with Vocal at the 46th Grammy Awards.
Shaggy's collaborative project with Sting, 44/876, described as "island-influenced," won a Grammy Award for Best Reggae Album at the 61st Grammy Awards in 2019.
Who can forget Sean Paul's collaboration with Beyoncé, which produced Baby Boy, a R&B and Dancehall song with Caribbean influences, topped the US Billboard Hot 100 for nine consecutive weeks and was Beyoncé's longest-running number-one single until it was surpassed by Irreplaceable in 2007.
Very importantly, Baby Boy reached the top ten in countries such as Australia, Belgium, Denmark, France, Germany, Ireland, the Netherlands, New Zealand, Norway, Scotland, Spain, Sweden, Switzerland, and the United Kingdom, thereby giving invaluable exposure to Sean Paul.
Potential for Reggae/Dancehall in India
Notwithstanding the success of Jamaica to India, are Indians really ready for reggae/dancehall music?
Over the years, Jamaica's best-known cultural export, reggae, has led to scores of international festivals and the formation of numerous reggae/dancehall sound systems worldwide.
Way back in August 2010, Rolling Stone (India) magazine published a story about the state of reggae in India. The article points out in part that "while the likes of Bob Marley and Peter Tosh have been loved in India for generations, new reggae sounds were rarely heard outside of beach huts in Goa, and the only noteworthy reggae event in India was Shillong's annual Bob Marley Tribute."
That changed with the emergence of Reggae Rajahs, India's first sound system, in February 2009. Since then, Reggae Rajahs have worked ceaselessly on promoting reggae music and its associated culture across India.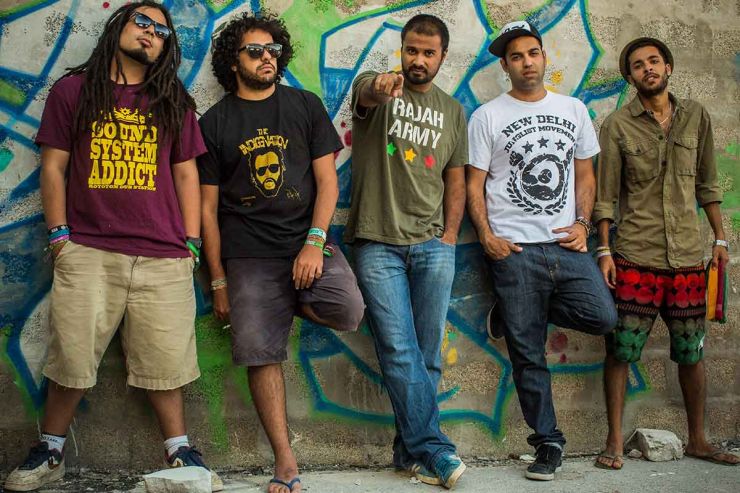 Reggae Rajahs are positive about the future of reggae music in India: "Yes, we're pioneering reggae music, but what we're really enjoying is actually being part of this music scene that's exploding."
Today, reggae music, arguably Jamaica's greatest export is being tailored to India's ears, and taking roots across the subcontinent: Thanks to Reggae Rajahs, preachers of the reggae gospel.
Given his popularity and goodwill in India, Chris Gayle can continue to play a major role in the reggae evangelization of India. With Jamaica to India, he is leading the way.