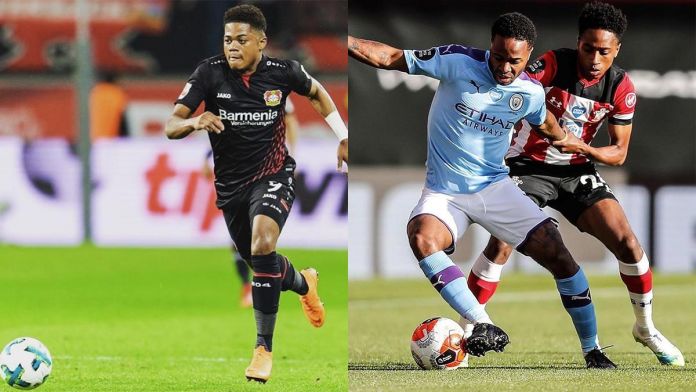 Lloyd "Lindy" Delaphena, John Barnes, Theodore "Tappa" Whitmore, Ricardo "Bibi" Gardener, Ian "Pepe" Goodison, and Ricardo Fuller are just some of the Jamaican-born footballers who had illustrious careers in Europe and helped paved the way for and inspired the current crop of Jamaican players plying their trade across the continent.
Jamaican-born footballers: the pioneers
Lloyd Lindbergh "Lindy" Delaphena was the trailblazer. He was the first Jamaican to play professional football in England, back in the 1940s and 1950s. The former Wolmer's and Munro College student made his debut for Portsmouth in 1948 and went on to play for clubs like Middlesbrough and Mansfield Town.
The Spanish Town native was a lethal striker, scoring 118 goals in 383 league appearances.
John Barnes is arguably the most brilliant and successful of all Jamaican-born footballers to have played in England where he is considered a legend of English football, especially by Liverpool fans. During his professional career, Barnes played for Watford ('81-'87), Liverpool ('87-'97), Newcastle United ('97-'99) and Charlton Athletic in 1999. He made 751 club appearances and scored 198 goals.
Barnes represented England (1983-1995) in 79 appearances, scoring 11 goals. He also played three matches for England's U21 team.
Barnes' ball control and dribbling skills are legendary. Many Jamaicans became lifelong Liverpool fans because of his long and colorful career at the club. Such was Barnes' contribution to English football, he was awarded Member of the Order of the British Empire (MBE) in 1998.
Theodore "Tappa" Whitmore made over 100 league appearances for Hull City and Tranmere Rovers in England. The magical midfield maestro dazzled with his creative dribbles, and clinical passing and finishes, endearing himself to the fans during his time at Hull City (1999-2002).
Ricardo "Bibi" Gardener's European adventure began in 1998 when the youngster from Harbour View FC was signed by Bolton Wanderers in England for a huge £1 million transfer fee, after his outstanding performance for Jamaica in its maiden appearance in the FIFA World Cup.
The versatile full-back went on the make more than 300 league appearances over an incredible career spanning 14 years with Bolton, cementing himself as a club legend while becoming one of the longest serving foreign players in the club's history.
Ian "Pepe" Goodison, like Whitmore, also played for Hull City and Tranmere Rovers. However, it was at Tranmere where the towering defender made his mark in Europe. Goodison signed for The Rovers in 2004 and spent 10 years at the Merseyside club, making 366 league appearances and netting 11 goals.
The Jamaica National Premier League has long been a platform for local talents to strut their stuff, attracting scouts from Europe and all over the world.
Luton Shelton, who sadly passed away recently, and Ricardo Fuller were two of the greatest players to grace our national league and both went on to have successful careers abroad.
Shelton displayed his homegrown skills in the most exciting league in the world when the forward played for Sheffield United in the Premier League during the 2007-2008 season.
Ricardo Fuller's exploits in Europe are well documented. The goal-scoring hit man is well travelled across the United Kingdom, playing for an incredible 13 clubs. Among the clubs he represented are Stoke City, Preston North End and Southampton, scoring goals everywhere he played. The 6-foot-3-inch striker who represented Tivoli Gardens FC before playing in the United Kingdom, has netted 122 goals in 505 league appearances for clubs across England and Scotland.
Jamaican-born footballers, forerunners in English soccer, have helped to set the foundation for Jamaican-born footballers currently playing in Europe, arguably the biggest football continent in the world. The former stars announced to the world that Jamaicans are not only good on the track, but also a force on the soccer field. So, who are some of the Jamaican footballers who continue to pave the way in Europe?
The Current Brigade
Shamar "Boza' Nicholson went from starring in the Jamaica National Premier League for Boys Town, to playing in one of the top leagues in Europe, in the space of just 2 years. Nicholson burst onto the international scene in 2017 when the young striker travelled to the USA with the Reggae Boyz senior team to compete in the Gold Cup. Jamaica finished runner-up to the United States and the Boys Town star impressed in his first major international tournament.
His performances at the Gold Cup that year earned him a move to Europe as he signed for NK Domžale in Slovenia after the tournament. Nicholson hit the ground running at his new club, continuing his good form in Slovenia's top division, scoring goals and setting up teammates for fun. He bagged 18 goals in his first 47 league appearances and this attracted some attention from the big leagues.
The powerful striker signed for Sporting Charleroi in the Belgian First Division after just 2 years in Slovenia. He has gone on to claim a regular spot in the starting eleven and continues to show why he's currently one of the most exciting young talents out of Jamaica.
Leon "Chippy" Bailey, the Bayer Leverkusen's striker, is undoubtedly the prime ambassador for Jamaican-born footballers in Europe currently, and is one of the most exciting and sought after young talents in all of Europe. He may have paved the way for Nicholson in Belgium a few years before the latter's arrival.
Born in 1997 in Kingston, Bailey grew up in Cassava Piece. He travelled to Europe with his adoptive father Craig Butler in 2011 when he was still just a boy with a dream of becoming a professional footballer. They traversed Europe until Bailey's innate talent and sheer determination landed him a trial with KRC Genk in Belgium in 2012. He made his senior debut for the club in 2015 and, as they say, the rest is history.
Bailey's brilliant performances in Belgium started drawing attention across Europe. His blistering pace, refined technique and eye for goal saw him quickly become one of the most talked about young players on the continent. In 2017, Bayer Leverkusen signed Bailey for €20 million at a time when he was attracting the interest of English clubs like Manchester United and Chelsea.
Bailey's choice to continue his development at Leverkusen in the Bundesliga has proven to be a great decision thus far: Today, he is even more sought as his reputation has skyrocketed. To date the electrifying winger has made 139 appearances for his German club, scoring 33 goals.
Bailey is having one of his best seasons in Germany and is once again being linked with some of the biggest clubs all over Europe and it feels like only a matter of time before he makes another big move to another top European league. His stardom has shone a brighter light on Jamaican football and brought new and greater awareness to the wealth of footballing talent that the land of wood and water possesses.
Already, we have begun to see other Jamaican footballers exploring leagues in Europe outside of England. Both Kemar Lawrence (Anderlecht), Reggae Boyz first-choice left-back, and Tyreek Magee (Eupen), former Jamaica College and Harbour View FC star player, have moved to Belgium in recent years.
Other young players carrying the Jamaican flag in Europe are Norman Campbell at RFK Grafičar Beograd in Serbia and Kaheem Parris at NK Domžale in Slovenia.
Among Jamaican-born footballers in Europe, past or present, Raheem Sterling is surpassed only by John Barnes as the most successful. Born in Kingston Jamaica in 1994, Sterling moved to England at the age of 5 and thirteen years later (2012) broke into Liverpool's first team, wowing the Premier League with his natural flair and blistering pace.
Sterling won countless individual awards at Liverpool before he was transferred to rivals Manchester City for an eyewatering £50 million in 2015.
Sterling has become a global superstar in the game and has won every trophy on offer in England. He is regarded widely as one of the most dangerous and feared attacking players in the world and while he has opted to represent England at the international level, he has not forgotten his Jamaican roots.
Jamaican-born footballers playing in Europe is not limited to men. Buoyed by the international successes of their male counterparts, Jamaican women ballers are making their mark in Europe too.
One of the hottest female strikers in Europe currently is Khadija "Bunny" Shaw, the Reggae Girlz' goal machine.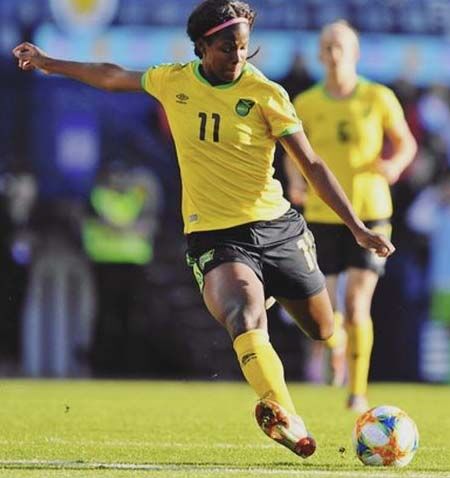 Born in Spanish Town Jamaica, the 23-year-old striker signed for French side FC Girondins de Bordeaux in 2019 and has been a sensation in France. Shaw, Jamaica's all-time leading goal scorer with an astonishing record of 42 goals in 30 caps for the Jamaica Women's Senior National Team, has scored an astonishing 27 goals in 28 league appearances for her French club.
She is an inspiration to women and girls, not only in Jamaica but all over the Caribbean, who have ambitions of playing on the biggest stages in Europe. However, she is not the only Jamaican female baller doing well in Europe.
Defender Allyson Swaby plays for Italian powerhouse AS Roma and her sister Chantel Swaby recently signed for Rangers in Scotland. The exploits and success of these extraordinarily talented Jamaican-born footballers, and many more, have created a world of possibilities for the next generation of Jamaican-born footballers, who will be filled with confidence by the rich legacy of past and current players who have made and continue to make their indelible mark in Europe.