As Jamaican culture becomes most pervasive worldwide, there is increasingly greater interest in Jamaican food. To satisfy this curiosity, though only partially, we have chosen what we deem as the 12 most popular Jamaican dishes. Among our choices are ackee & saltfish, rice and peas, jerk chicken, stew peas, oxtail stew, curry chicken, and curry goat. So, here we go
Ackee and Saltfish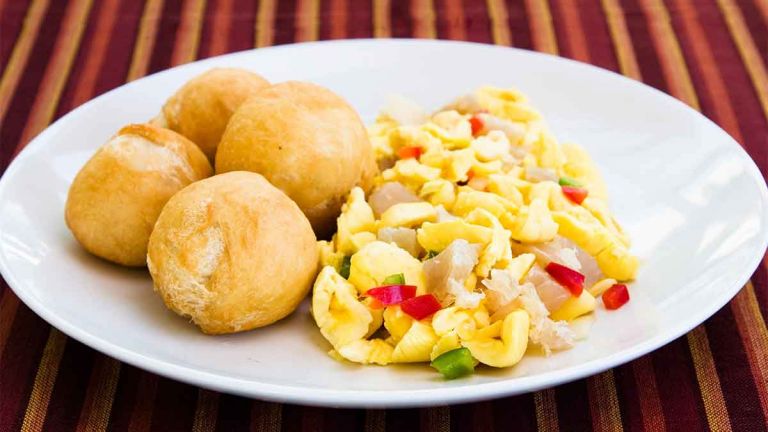 Ackee and saltfish is the national dish of Jamaica. The dish gained international recognition in 2011 when National Geographic, in its book – Food Journeys of a Lifetime – ranked it second among the best national dishes in the world. According to National Geographic, ackee and saltfish is preceded only by the pervasive hamburger. Ackee and saltfish, which is served with any combination of fried or boiled dumplings, festivals, bammy, roast breadfruit, or boiled yam and bananas, is a favourite of Jamaicans residing at home and overseas.
Get the recipe for ackee and saltfish
Stew Peas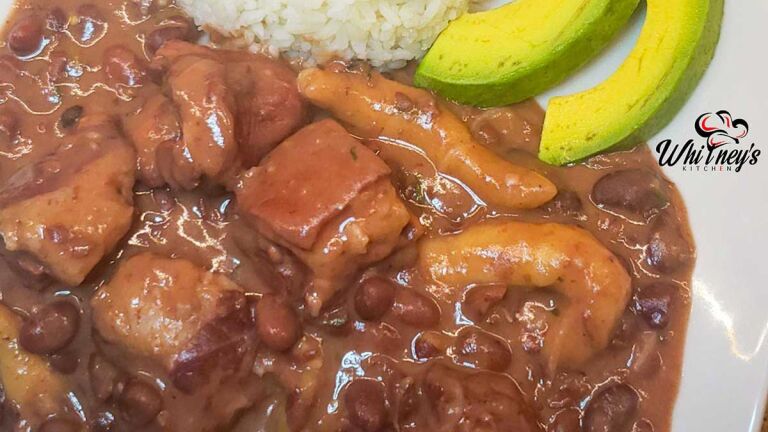 Stew Peas is one of Jamaica's most popular dishes. Incidentally, the name stew peas is a misnomer because the dish uses red kidney beans, not peas.
Stew peas is one of the staples on the weekly Jamaican menu. As a child, everyday was Jamaican food day, but Wednesday was designated stew peas day.
Many Jamaicans cook stews peas in their own special way. Traditionally, however, it is prepared with red peas (kidney beans), coconut milk, spinners, and pickled pig's tail. Non-pork eaters can use salt beef, beef stew, or chicken instead. For vegans and vegetarians, meat can be substituted by pumpkin, irish potato, or sweet potato. For almost everyone though, the colour and thickness of the stew are issues about which they are uncompromising.
Oxtail Stew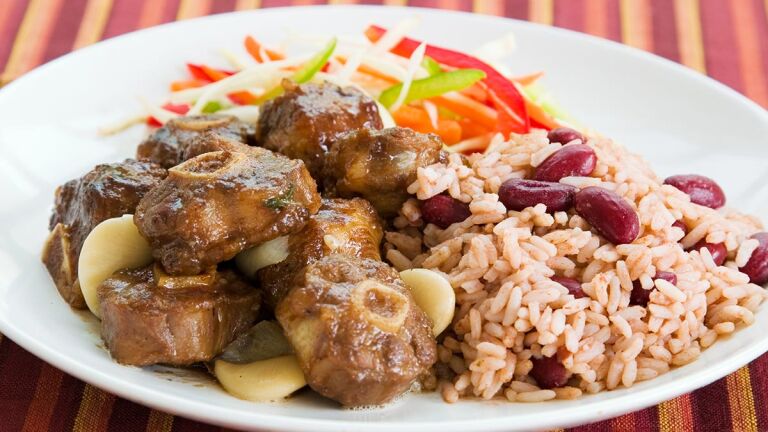 Jamaicans have a special craving for oxtail stew. The stew, which contains broad or butter beans and carrots, when served with rice and peas is especially delicious. Such is Jamaicans' love for oxtail, the dish is a fixture on most menus, whether in homes, restaurants, catering service, or other places where food is served.
Oxtail stew when well-seasoned, 'down to the bone' as Jamaicans like to say, is enjoyed best at home where there is the freedom to use the hands to hold the pieces to chew off the meat and suck the flavorful 'juice' from the bones.
Juicy, succulent, savory, and yummy are just some of the terms Jamaicans often used to describe oxtail stew, this iconic Jamaican food.
Get the recipe for oxtail stew.
Curry Chicken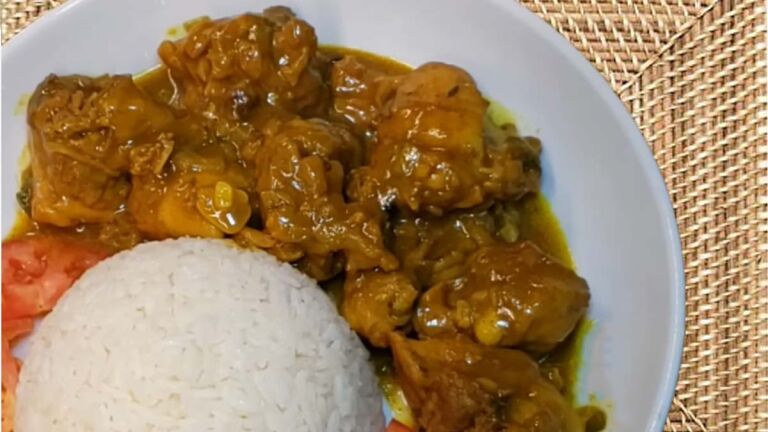 Curry chicken derives its popularity, amongst Jamaican food, from its flavor, the ease with which it is prepared, and its flexibility: It goes well with a wide range of foods such as rice and peas, plain rice, roast breadfruit, yam dumplings and bananas, and roti, of course.
Get the recipe for Curry Chicken.
Curry Goat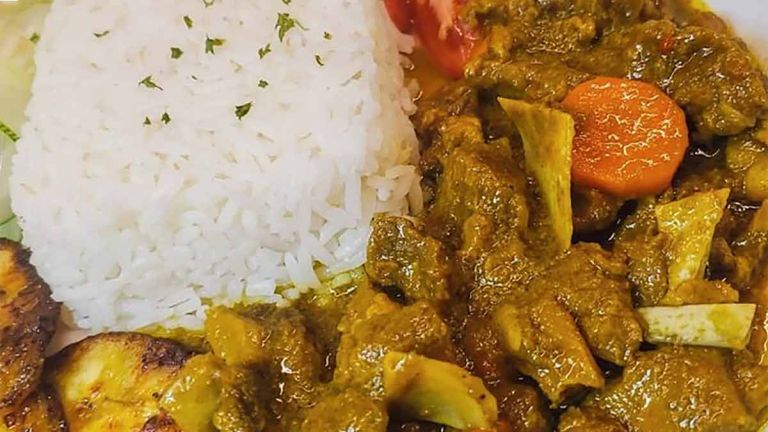 One of the most popular Jamaican food is curry goat and it is a major example of authentic Jamaican cuisine and reflects a part of Jamaican culture. Tender spicy curry goat served with white rice or rice and peas will leave you craving for more. Whilst the dish is served mainly at big events and on special family occasions, it is a regular item on the menu of most restaurants.
A notable feature of most big dances in Jamaica is that the curry goat and 'mannish water' served, must be from the meat of a ram to get a rank (renk) aroma and flavor. 'Mannish water' is a soup made from the entrails of a ram, specifically. Curry goat and its derivatives are authentic Jamaican food.
Jerk Chicken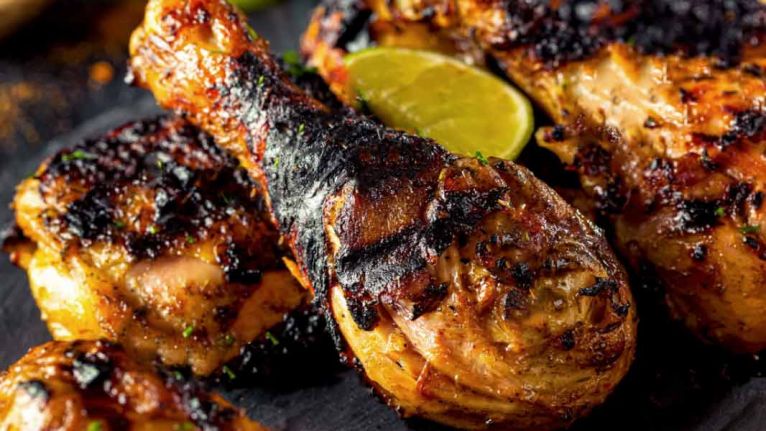 Jerk chicken is arguably the most popular Jamaican food. It is known worldwide and is also popular in many countries. Jerk chicken, easily recognized savored for its flavor, is prepared using spices such as the pimento, scotch bonnet pepper, scallion, onions, and thyme. Jerk chicken is cooked using a 'jerk pan style', a form of grill, or done the original way which is cooking the chicken atop pimento wood with hot coals below. Many households worldwide make jerk chicken by marinating chicken with wet or dry jerk seasoning and roasting it in the oven.
Fried Chicken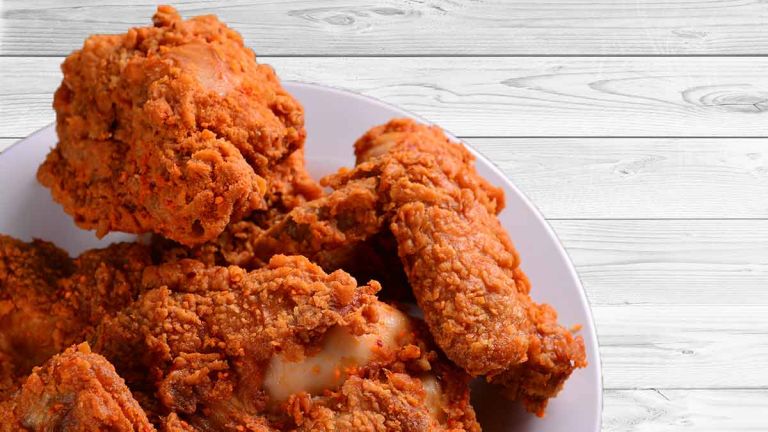 Fried chicken is a favorite cuisine of people all over the globe, and one of the top 12 Jamaican foods. Fried chicken is described as crispy or crunchy (to describe the skin), juicy (when the meat retains some juices), and succulent, tender, and tasty (when it's well cooked).
Generally, two techniques are used to prepare fried chicken: pan frying and deep frying.
Pan frying requires the use of a frying pan and oil, or some other source of fat, that does not immerse the chicken fully. The chicken pieces are spiced, then fried.
Deep frying requires a deep fryer or any other device which enables the chicken pieces to be submerged completely in hot fat. The process of deep frying is placing food fully in oil and then cooking it at a very high temperature.
Pan frying is the technique used primarily in homes while deep frying is the method used by fast food outlets and hotels, primarily because of the volume that is required within a limited timeframe.
Get the recipe for fried chicken.
Rice and Peas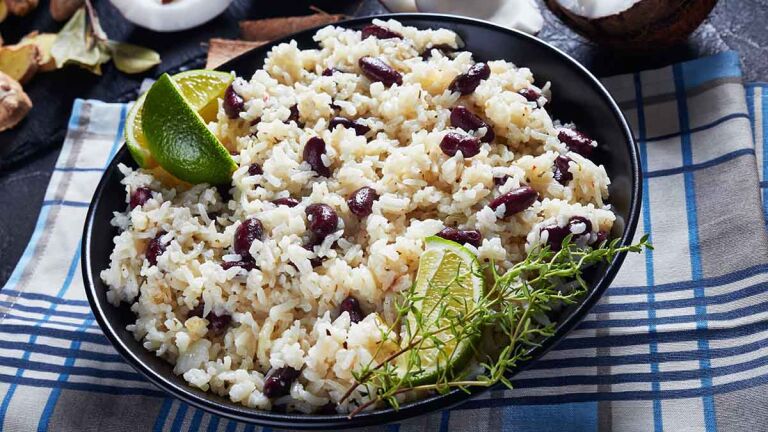 Rice and peas, a side dish usually served with a wide variety of meats an/or vegetables, is a richly spiced traditional Jamaican dish which is the main staple for dinner in most Jamaican households on Sundays. The primary ingredients are rice and kidney beans. The obvious question follows: Why is the dish called rice and peas and not rice and kidney beans? In Jamaica and many other Caribbean countries, "peas" are referred to as "beans".
In addition to the kidney beans (oops peas!), the other ingredients are rice (preferable Basmati or long grain parboiled), coconut milk/cream, thyme, scallion (white onion), garlic, Scotch bonnet pepper, and allspice berries.
Get the recipe for Rice and Peas.
Brown Stew Chicken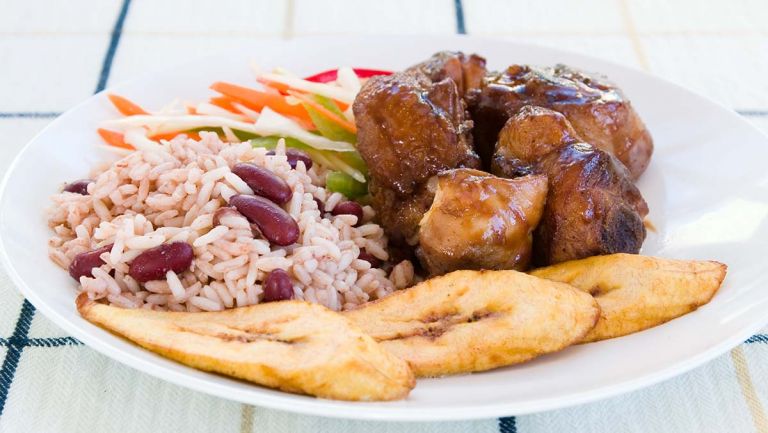 Stews are one of my favorite types of dishes because they are easy to prepare and are a great way to stretch small amounts of protein to feed many persons. But brown stew chicken is my favourite and is one of the most popular Jamaican dishes.
Normally, brown stew chicken is served for dinner in homes with rice and peas, white rice, or boiled food. But many restaurants carry it on their breakfast menu served with various combinations of Jamaican food such as fry dumplings, festivals, roast breadfruit, and boiled food.
Brown stew chicken is often confused with chicken fricassee. The difference is that the latter is fried first then boiled, while the former is cooked more evenly as it is boiled, which gives it a more consistent texture and flavor. Get the recipe for Brown Stew Chicken.
Red Peas Soup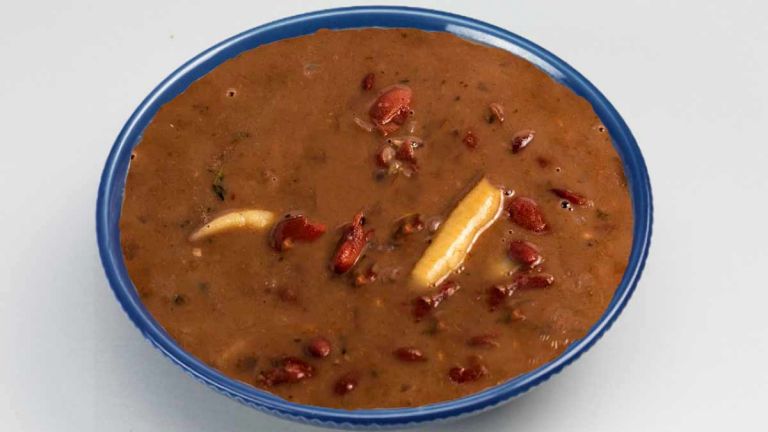 Red peas (kidney beans) soup is a Jamaican favourite. This creamy and flavorful dish is on the menu of almost all restaurants in Jamaica. It is served for dinner, mostly on Saturdays, in many Jamaican households.
The traditional Jamaican red peas soup had either pickled pig tail or salt beef as its meat kind. However, many Jamaican use a variety of other meats (e.g. chicken feet, turkey neck, ham bone) as substitutes. The food can be any combination of sweet potato, yellow yam, coco (yam), breadfruit, carrots and dumplings. Coconut milk, scallion, hot pepper, pimento, and thyme are the other ingredients. A filling bowl of red peas soup on a rainy Saturday is an experience long remembered.
Steam Fish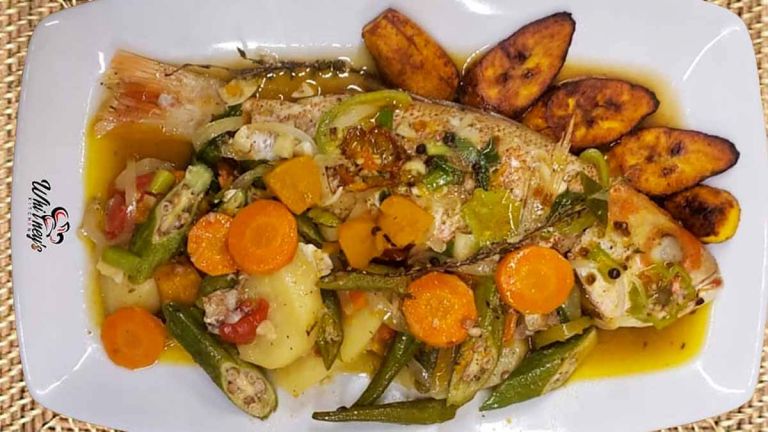 Steam fish is certainly one of Jamaica's favorite dishes: Just visit any fish haunt, such as Gloria's in Port Royal and Victoria Pier in Kingston, and Hellshire beach on weekends. The most popular types of Jamaican steamed fish are red snapper, goatfish, and parrotfish. The tenderness and smooth texture of the flesh of the parrotfish makes it a great choice for frying and steaming.
As a result, the great demand for the fish has forced environmentalists, increasingly, to urge Jamaicans, to curb their insatiable demand for parrotfish because of its importance to coral reef health and sea sand production. Jamaican steam fish is usually cooked with a mixture of okra, pumpkin, carrots, chocho (Chayote), Scotch bonnet pepper, bell pepper, onions, scallion, and pimento berries.
Roast Breadfruit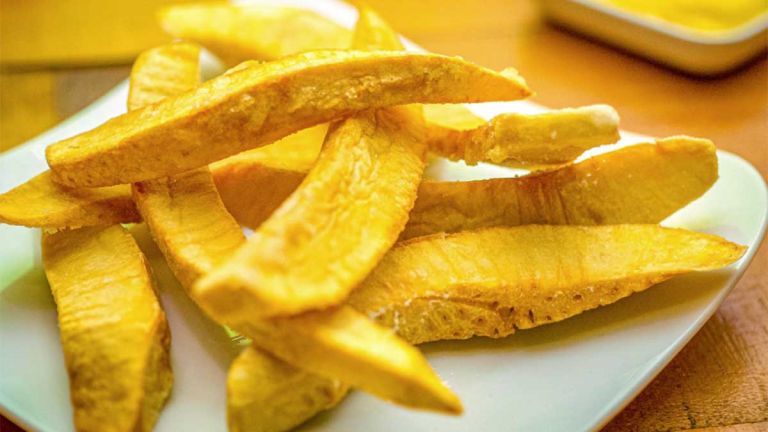 If you are talking about Jamaican food, breadfruit must be in the mix. Breadfruit is an extremely versatile fruit that can be prepared in several different ways. However, the most popular form of preparing it in Jamaica is roasting or baking the mature breadfruit. Roasting is generally done by cooking the breadfruit over coal or wood fire.
Alternatively, some people roast it on their gas or electric stove. However, breadfruit that is roasted in a coal stove or wood fire is more delicious than the ones that are done on a stove top or in the oven because the smoke from the coal or wood fire gives the breadfruit a smoky flavour and taste.
Roasted breadfruit is sometimes fried. But whether plainly roasted or fried, it goes well with ackee and saltfish, stew or curry chicken and a variety of other meats and steamed vegetables. Roasted breadfruit is gaining in popularity because it is gluten free and chock full of nutrients.