Diagnosed with high-functioning autism as a baby, Joshua Beckford is described alternatively as a child prodigy, genius, or phenom. At the age of two, he was reading fluently, learning to do so by phonics. He was speaking Japanese and some Chinese Mandarin at three years old. At the age of six, he became the youngest person to have ever enrolled at Oxford University, where he studied philosophy and history, gaining a distinction in both subjects. Joshua, whose vision is to save the world, hopes to be a neurosurgeon in the future.
Joshua Beckford was born 2005 in Tottenham to Jamaican parents. He became a ward of the state at four days old and placed in a foster home. Knox Daniel and his wife Sheila adopted him shortly after. "We were trying to get him from birth as he is a relative on one side of the family," said Knox.
Joshua met his biological mother who showed a slight interest after seeing newspaper articles about him, but his biological father's whereabouts are unknown.
Joshua's adopted father, Mr. Daniel, has revealed to him the story of his early life, a little at a time.
Mr. Daniel, who first noticed Joshua's exceptionally high intelligence, before the child was ten months old, said it has been quite challenging raising him because he asks so many questions, many of which he (Mr. Daniel) is unable to answer.
In 2011, Mr. Daniel, wanting to challenge Joshua, wrote to Oxford University to inquire if it would allow Joshua to participate in a philosophy course it was running for bright children between the age of 8 and 13.
Oxford consented and Joshua Beckford, then six years old, became the youngest student ever accepted: he studied history in addition to philosophy, gaining distinctions in both.
Joshua, who has set his sights on becoming a neurosurgeon, taught himself how to use Microsoft Surgery Simulator, which he has used conduct many complex surgical procedures. These include the removal of a cataract, the removal of a hernia, and the repairing of a leg fracture.
In 2016, Joshua wrote and presented a Poem 'Saving Mother Earth' at the TED x International Conference in Vienna. He has also designed and delivered Power-Point presentations on Human Anatomy at Community fund-raising events to audiences ranging from 200 to 3,000 people.
In addition to his academic brilliance, Joshua is the face of several social causes.
Joshua Beckford Supports Social Causes
In 2017, Beckford won Positive Role Model of the year at the National Diversity Awards.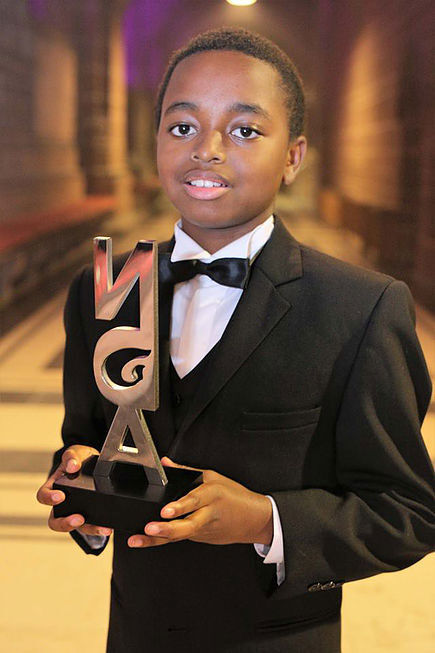 He serves as the face of the National Autistic Society's Black and Minority campaign, helping to highlight the challenges minority groups face in their attempt to acquire autism support and services.
He was also appointed Low Income Families Education (L.I.F.E) Support Ambassador for Boys Mentoring Advocacy Network (BMAN) in Nigeria, Uganda, Ghana, South Africa, Kenya and the United Kingdom.
BMAN Low Income Families Education (LIFE) Support was established to create educational opportunities for children from low-income families so that they have a hope of positively contributing to a thriving society.
"I want to save the earth. I want to change the world and change peoples' ideas to doing the right things about earth," Joshua once said of his future.
In response to the question "When asked who or what is his greatest source of inspiration?", Joshua answered, "My greatest inspiration is the ancient Egyptian father of Medicine and Multi-Genius Imhotep who lived 2,700 BC and my dad who taught me from when I was very young. This give me the confidence to dream big and know that I can achieve virtually anything."
Joshua Beckford is a young man with a clear mission to save the world and we can hardly wait to see what he will accomplish.