Kamala Harris is scheduled to be sworn in as Vice President of the United States on January 20, 2021: she will become the holder of the highest elected office to be held by any woman in the history of the U.S. Given that her father is a Jamaican, many Jamaicans across the diaspora have been beaming with pride and basking in her success, since Joe Biden selected her as his running mate. However, many Jamaicans are disappointed that she has snubbed her Jamaican heritage.
By shunning her Jamaican heritage, Kamala Harris may have given the impression that she does not wish to be associated with Jamaica and, by extension Jamaicans, approximately two million of whom reside in the United States. Also, she has left many to assume that her father's influence in her upbringing was too inconsequential to worth mentioning: leaving many to assume that he was a dead-beat dad.
Kamala Harris was born in Oakland, California, in 1964 to Donald Harris, a Jamaican, and Shyamala Gopalan, an Indian. Her parents met at University of California, Berkeley, where Donald was pursuing a doctorate in economics, and Shyamala a doctorate in nutrition and endocrinology.
They got were married in 1963 and the marriage, which lasted nine years, produced two daughters, Kamala and Maya.
In 1968, Donald Harris accepted an appointment as an associate professor of economics at University of Wisconsin-Madison. His wife, Shyamala, was a breast cancer researcher at the same university.
Donald and Shyamala separated in 1969, one year after relocating in Wisconsin: Kamala was 5 years old at the time.
Kamala Harris, in her autobiography, "The Truths We Hold," cited the move to Madison as the reason for her parents' separation. Shyamala Gopalan Harris returned to Berkeley with the couple's two daughters. Donald Harris eventually left Madison in 1972 to join the economics department at Stanford University. Shyamala filed for divorce that same year.
In a 2018 essay, Professor Harris wrote that close contact with his daughters "came to an abrupt halt" after a contentious custody battle. The divorce settlement, he wrote, had been "based on the false assumption by the State of California that fathers cannot handle parenting (especially in the case of this father, 'a neegroe from da eyelans,' was the Yankee stereotype, who might just end up eating his children for breakfast!) Nevertheless, I persisted, never giving up on my love for my children."
Do dead-beat fathers fight for custody of their children?
So bitter was the divorce, Kamala Harris recalls inviting both her parents to her high school graduation: "even though I knew they wouldn't speak to each other." She feared initially that her mother would not show up. Her mother eventually showed up in "a very bright red dress and heels," Kamala noted.
Do dead-beat fathers who have walked out on their children and have no interest in their upbringing, as some people assert, attend their high school graduation: the children having invited them and having no doubt they will attend?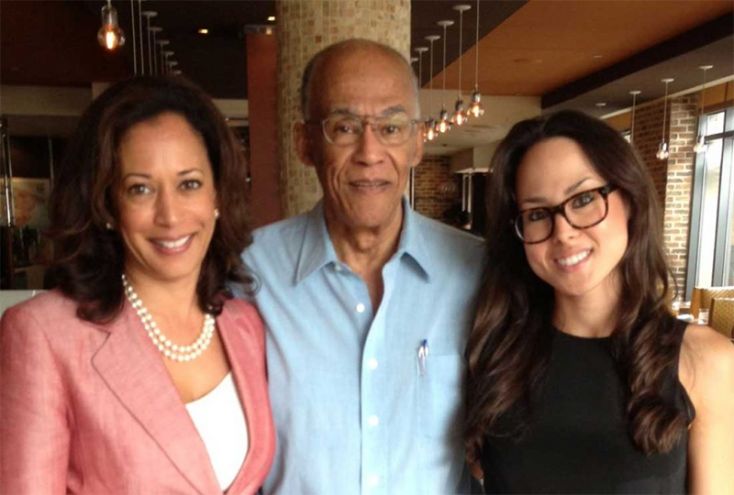 During the early stages of the Democratic Party's primary elections, Ms. Harris often invoked her biracial background and immigrant parents. So, when and why has Kamala Harris been snubbing her dad and, by extension, her Jamaican heritage?
While campaigning during the Democratic Party's primary, Ms Harris appeared on the Breakfast Club and was asked whether she smoked pot when she was young. She responded, "Half my family is from Jamaica, are you kidding me?"
The video clip of that interview, which went viral, advanced the stereotype of Jamaicans being ganja smokers. Except for once or twice that her father took her on visits to Jamaica, when she was a child, she had no experience living in Jamaica.
Was Ms. Harris being truthful by insinuating that she smoked pot? Or was her subtle admission merely a ruse intended to advance her political career? Of course, both Bill Clinton and Barack Obama admitted to smoking pot, without any apparent negative consequence, while campaigning for the Presidency. Her father, who felt his family was being smeared would have none of it.
He posted a comment on jamaicaglobalonline.com: …"My dear departed grandmothers (whose extraordinary legacy I described in a recent essay on this website), as well as my deceased parents, must be turning in their grave right now to see their family's name, reputation and proud Jamaican identity being connected, in any way, jokingly or not with the fraudulent stereotype of a pot-smoking joy seeker and in the pursuit of identity politics."
To date, I am unaware of any public response from Kamala Harris. Neither am I aware of any reference by her re her Jamaican heritage since.
Audrey, a Jamaican residing in Atlanta, holds the view that if Kamala's father's public rebuke, though not naming her, is the reason for her snubbing him, it should not be held against her because he embarrassed her. Persons holding the same view as Audrey are failing to take into consideration the fact that Kamala's statement smeared not only her father and his family, but countless number of Jamaicans who do not smoke ganja. Her pronouncement was public, so a public response is justified.
Audrey went on to say, though, that she and other Jamaicans close to her were disappointed when Kamala Harris failed to acknowledge her Jamaican heritage during her acceptance speech in Delaware following Joe Biden naming her his running mate.
Assuming Kamala felt embarrassed by her father's public rebuke, Jackie from New Jersey asks, "is she going to hold this against him for life? She ought to remember that Joe Biden forgave her despite her brutal takedown of him during the first Democratic primary debate, trying to cast him as a racist."
Ms. Kamala Harris, very noticeably, has failed to mention her Jamaican heritage in her national convention speech and her election victory speech. In all her speeches, she has highlighted her mother, rightfully so, but, by not mentioning her dad, has given the impression that he played no meaningful positive role in her life. But is that so?
Kamala Harris' dad speaks
In an article carried on jamaicaglobalonline.com – Kamala Harris' Jamaican Heritage Updated – Professor Harris pens an essay titled Reflections of a Jamaican Father in which he details his upbringing in Jamaica and the lessons he has taught his daughters to instill their Jamaican heritage in them.
He writes that as a child growing up in Jamaica, he heard a common refrain from his parents and family friends: "memba whe yu cum fram".
Professor Harris continues: "To this day, I continue to retain the deep social awareness and strong sense of identity which that grassroots Jamaican philosophy fed in me. As a father, I naturally sought to develop the same sensibility in my two daughters."
He also writes that he has told his daughters that, "…the sky is the limit on what one can achieve with effort and determination and that, in this process, it is important not to lose sight of those who get left behind by social neglect or abuse and lack of access to resources or 'privilege'; also not to get 'swell-headed'; and that it is important to 'give back' with service to some greater cause than oneself."
Would not such a lesson be instructive to a career politician like Ms. Kamala Harris? If what her father has written for public digest is true, then Ms. Harris is not being honest by inferring that she has learnt important lessons from her mother only. On the contrary, if what he has is a lie, then he should be called out on it. So far, there has been no public contradiction.
On the one hand, Professor Harris is stating publicly the role he has played in his daughters' lives and expressing his love for them while one daughter, Kamala Harris, continues to snub him openly. Whatever beef Kamala Harris has with her father should be resolved sooner rather than later, especially if she plans to contest for the Presidency in the future.
She wants to avoid questions that may paint her as petty and unforgiving. Also, her continued snubbing of her Jamaican heritage could lose her the support of many of the large contingent of Jamaicans living in the U.S. It is worth noting, on the contrary, how Susan Rice, head of the White House Domestic Policy Council, has embraced her Jamaican heritage, never missing an opportunity to talk about it publicly.