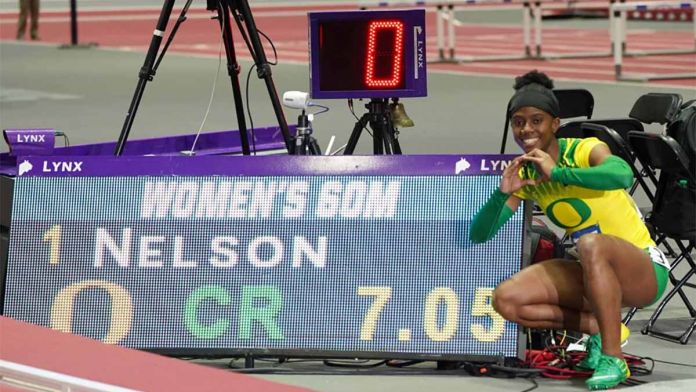 Kemba Nelson stormed to victory in a personal best 7.05, a championship record and collegiate-leading time, to win the women's 60m title on the final day of the 2021 NCAA Division I Nationals, inside Randal Tyson Track Center, on Saturday night.
Putting Nelson's time into perspective, only Tiana Madison (Bartoletta), with a time of 7.02 in 2012, has ran faster at the Randal Tyson Track Center, the venue of this year's championship. Also, Nelson's time is the second-fastest in the world this year, behind the 7.03 that Ajla Del Ponte of Switzerland ran at the recent European Indoor Championships in Torun.
The line up for the final consisted of four Caribbean nationals: Kemba Nelson and Kiara Grant of Jamaica, Antigua's Joella Lloyd, and Grenada's Halle Hazzard.
Just before the race, the commentators' focus was on USC's Twanisha Terry, the pre-race favourite, who went into the final with the fastest time, 7.09, and Kiara Grant who had the second fastest time, 7.11.
Nelson got out to a great start, kept her form, and stormed to victory, making it look easy in the process. Her time of 7.05 eclipsed the 7.07 held jointly by Oregon's Hannah Cunliffe and LSU's Aleia Hobbs.
Twanisha Terry placed second in 7.14 and Kiara Grant third in 7.16. Antiguan Joella Lloyd, who set a new national record of 7.15 two weeks ago, was sixth in 7.23 while Grenada's Halle Hazzard, a senior at Virginia, was eighth on 7.27.
Kemba Nelson attended Mt Alvernia High School in Montego Bay, Jamaica, and spent three years at the University of Technology where she underwent coaching by the Stephen Francis led MVP track club.
After expressing a desire to compete in NCAA-level athletics, she transferred to Oregon in October 2020, thus becoming the first Jamaican-born female athlete to attend the University of Oregon.
Nelson begun the season at the Razorback Invitational (Jan 29-30, 2021) on a high note. After clocking 7.26 in the preliminary round in placing second behind Twanisha Terry, she turned the tables on Terry in the final in a personal best of 7.19.
With her performance on Saturday, Kemba Nelson could not have ended the season on a higher note, prompting her to post on Instagram after her record run, "What a way to close out the indoor season."