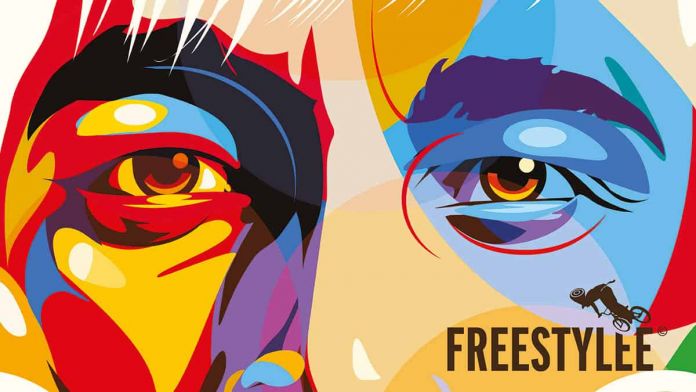 Michael Thompson, aka "Freestylee" and "Artist Without Borders" (1958-2016), was a passionate poster artist fervently committed to creative activism. In his own words, "We live in this global community that is besieged by crisis. I asked myself, what can I do to make a difference? How can I use Art to make a difference and spark change?'" Michael's elucidative art made a difference, initiating wide-ranging conversation about the urgent need for social transformation around the globe.
Michael's first love was designing posters that document the history and culture of Jamaica. Conscious roots reggae of the 1970's and 80's inspired his artwork. His reggae-infused posters are fundamentally tied to the imagery and messages of that period. He firmly believed that the global reach of reggae was not accidental. Its appeal could be traced directly to its hopeful messages that all people can relate to and the feeling of solidarity that the music inspires.
Born in Kingston, Jamaica, Michael Thompson spent most of his youth in the inner-city community of Jones Town, which adjoins Trench Town, the cradle of Reggae. He studied graphic design at the Jamaica School of Art. While still a student, Michael won two successive poster competitions, which gave him the opportunity to be part of the Jamaican delegation at the 11th World Festival of Youth an d Students in Havana, Cuba, in 1978.
Michael described his visit to Cuba as "a transforming experience and a tremendous opportunity." "Although I had seen Cuban posters in magazines before, I was blown away by the creativity and sheer number of posters I saw while attending the festival. They were beautifully designed, colorful, and fine art pieces, celebrating Cuban music, dance, sports and film. Their creativity made a tremendous impact on my art from that moment. If you are familiar with Cuban posters you can see the influence in my art today. Visiting Cuba remains the important spark that set me on this creative journey in graphic design."
Michael Thompson created Cuban designers René Azcuy, Fabian Muñoz, Nelson Ponce and Eladio Ravidulia for influencing his art. Other socially conscious artists who inspired him were JR, Ai Wei Wei and Banksy. Michael admired not only their artworks but their committed activism as well.
In 1990, Michael migrated to the United States. He worked as a freelance graphic designer with Citigroup, Sanofi Aventis, Bank of America and Estée Lauder. Michael moved with absolute ease between the worlds of commerce and social activism. In 2009, he began to focus much more decisively on his own poster art and produced an outstanding body of work – approximately 500 posters!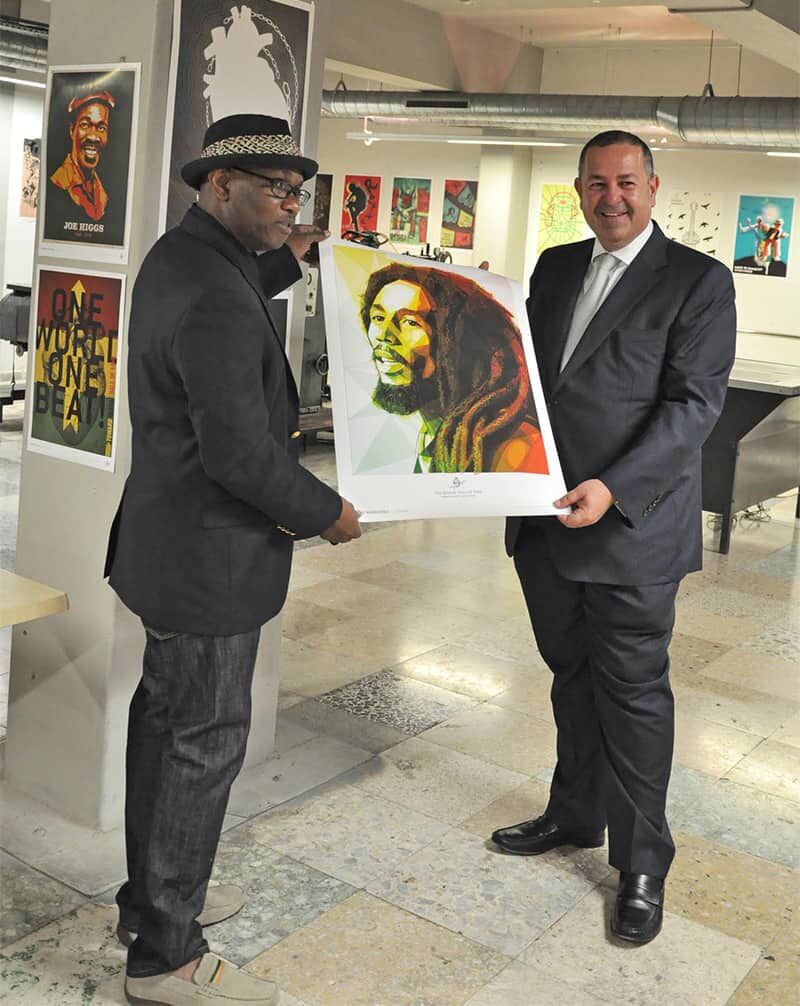 In September 2011, Michael Thompson designed an iconic poster, representing his concept of a Reggae Hall of Fame Museum and Performance Centre in Kingston, Jamaica. The building, as he conceptualized, would be an architectural masterpiece, attracting visitors from all over the world and ranked among the world's iconic buildings. His architect of choice is Frank Gehry, the legendary Canadian-born American architect, now ninety-one years old, whose work Michael admired.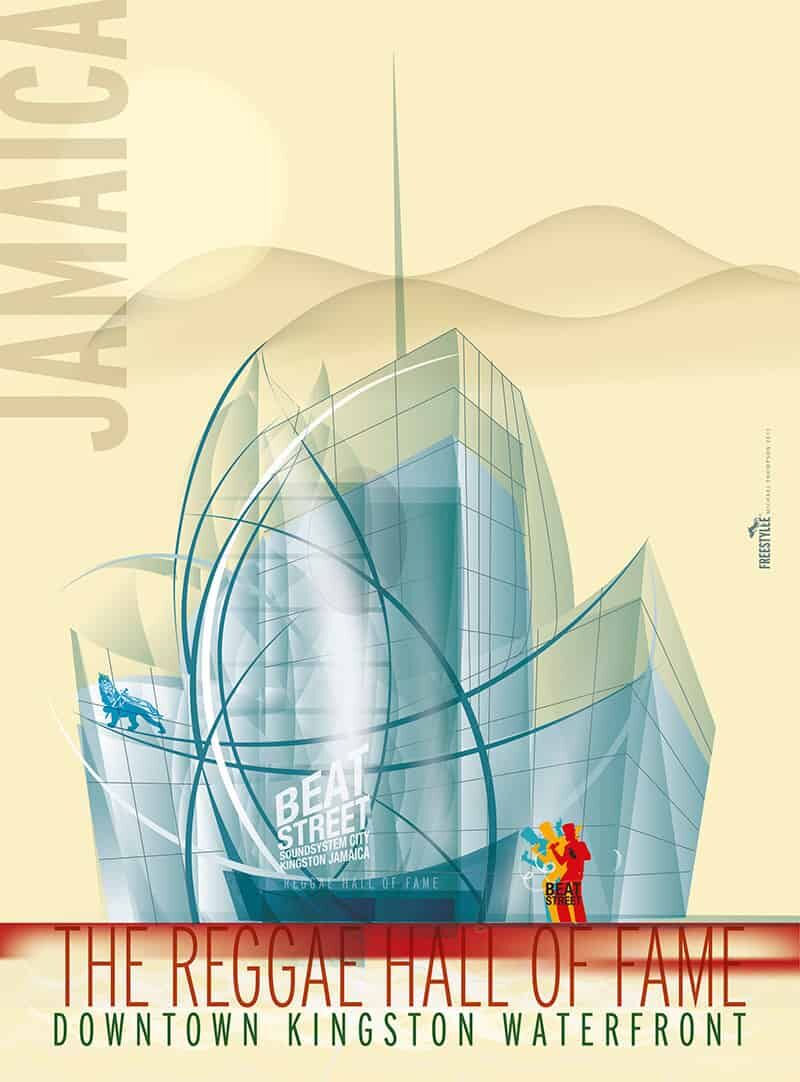 Michael wanted to start a conversation with the world about his idea and, as his vision flourished, he continued to design more posters on the museum. Michael concluded that the ideal medium for spreading his message would be a Poster Competition that would attract designers and artists from all over the world to create posters and share their love for reggae through art. A successful poster design is pure magic. Its message is immediately clear to everyone, in any country, in any language. Engaging posters challenge the viewer. They are a call to action.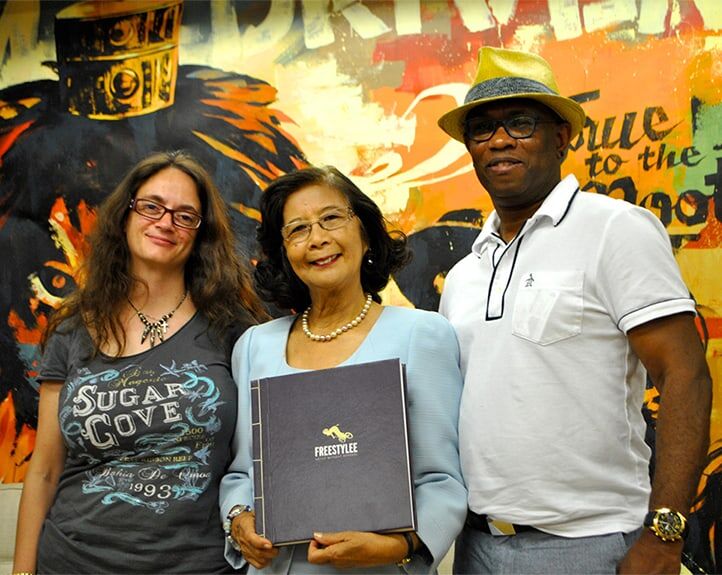 I first met Michael online as I was searching for unique and eye-catching posters to share on my blog, Graphic Arts News. He shared with me his vision of a Reggae Hall of Fame Museum and Performance Centre for Jamaica and the poster competition. He asked if I would help to promote his vision. "There is no money involved in the project," he declared. "But I know when you love something, you don't do it for the money but, as we say in Jamaica, you do it 'straight outta love'".
In November 2011 we announced our first International Reggae Poster Contest (IRPC). I still recall Michael's excitement at seeing posters submitted by designers in Russia, Japan, Kazakhstan, Iran, Israel, Malaysia, Indonesia, Australia, and many other countries in Europe, Africa, and the Americas.
The first poster competition was a resounding success. Since then, we have had five more competitions and gathered more than 6000 posters from more than 80 countries and have mounted 25 exhibitions worldwide. This flowering of creativity confirms that Jamaica has touched the consciousness of the entire world. In the field of design, there are many poster competitions focusing on a variety of subjects. But there is only one competition on Reggae, and the IRPC can encompass all the issues found in other social message contests because these are the messages that Reggae music expounds.
Another major objective of the IRPC is to celebrate the Alpha Boys School, the amazing Jamaican institution which has produced Don Drummond, Desmond Dekker and Yellowman, some of Jamaica's most legendary musicians. This remarkable institution should be celebrated, and its vision replicated. Without this fertile training ground, we might not have seen the flourishing of the global music that we call Reggae.
When Michael and I visited Alpha Boys School in 2012, we talked to the students about the contest and told them that we get posters from countries they didn't even know about. They were very impressed and felt proud to be part of a great musical tradition. We also introduced them to screen-printing and showed them a poster designed by Michael and screen-printed in Greece. That image became the school's new logo and we sparked the idea for a new vocational screen-printing program at the school. Now, the Alpha students themselves screen-print t-shirts which are sold online to raise funds for the school.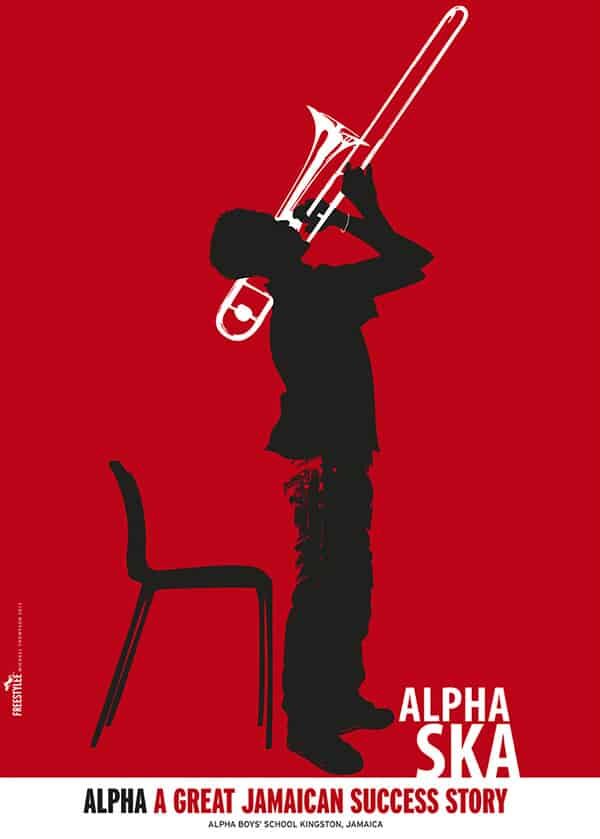 On August 15, 2016, activist and artist Michael Thompson, died at his home of a heart attack at the early age of 58. It was such a shock. The only consolation is the vast legacy of inspiring posters, representing more than two lifetimes' worth of work, that Michael has left behind. Also, he has left a mission to be fulfilled: the establishment of a world-class Reggae Hall of Fame Museum and Performance Centre in Kingston, Jamaica.
Depressed and crestfallen by Michael's sudden passing, I wondered if I could and should continue with the IRPC. With reassurance from his wife, Maria Hudson, his son, Dane Thompson, and Carolyn Cooper, our mutually good friend, I can now confirm my commitment to the continuation of the IRPC.
My memories of Michael are still very vivid. I recall our long talks over Skype, discussing the many pressing social and political issues occurring across the globe, from which Michael's posters would derive their themes. After our conversations, a new poster would arrive by email. Michael used to say, "I design like a samurai. Once I have the idea in my head, I execute it in one move". We used to laugh about this; but we also knew it was true.
What amazed me about working with Michael is the exchange of cultures. I fell in love with Jamaica and, especially, reggae music because of Michael's vision. I started designing my own posters for this little island with such a far-reaching music and culture. When Michael passed away, I designed two portraits of him. I hung one next to my desk as a reminder that he is still present in spirit and we are still working together. I know that Michael "Freestylee" Thompson's posters and messages will continue to circulate across the world, inspiring us to embrace his vision of a borderless universe of art.