Vivalyn Latty-Scott, Jamaican-born former West Indies women's cricket all-rounder, passed away on Sunday, January 10, in Florida. She is remembered primarily for her wide knowledge of and passion for the game and her fierce determination as a player.
Latty-Scott represented both Jamaica and the West-Indies as an all-rounder. She was the captain of the Jamaican team and a member of the first West Indies team to play a women's Test match. On retirement, she assumed coaching at all levels: if that was not enough, she also took up umpiring.
Latty-Scott made history on May 9, 1976: she was a member of the West Indies women's cricket team who, on that day, played their very first Test match in the history of Women's cricket. The iconic match was played over three days against Australia at Jarrett Park in Montego Bay, Jamaica.
The West Indies scored 282 runs in their innings and the Australians reached 268 for the loss of 8 wickets off 119 overs in their time at bat. Vivalyn Latty-Scott finished with 5 wickets for 48 runs, which remains to date, 44 years later, the best bowling figures in the history of West Indies Women's Test cricket.
During her cricketing career, Latty-Scott played 10 Test matches and 6 One-Day Internationals. Before her selection to the West Indies team, she played for Jamaica and local clubs Lucas and Kensington.
Dorothy Hobson, her team-mate for Jamaica and the West Indies describes Latty-Scott as a "dedicated and committed cricketer and lifelong fan of the game" and one of the best players she has play alongside.
Louise Browne, the first West Indies women's Test captain remembers Latty-Scott as a "passionate player with amazing knowledge of the game".
Ann Browne-John, Cricket West Indies' lead selector for women's cricket and a former international player hailed Latty-Scott as stalwart of West Indies women's cricket and a fierce competitor who took her cricket very seriously. "She taught us how to put our all into the game…"
Stafanie Taylor, Jamaican cricketer and current captain of the West Indies women's cricket team, in her tribute to Latty-Scott said, "I have known this amazing lady from when I went on my first tour with the Jamaica team and she was very helpful to me. She set a trail in women's cricket and she played a very important role in my development and inspired many young crickets in Jamaica to play the game and to excel. We all admired and respected her."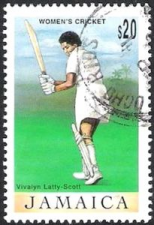 Latty-Scott was named Sports Woman of the Year in 1976 following her commendable performance for Jamaica and the West Indies.
She was inducted into the University of the West Indies cricket Hall of Fame in 2004 in recognition of her five-wicket haul against Australia in 1976. The Hall of Fame inducts any cricketer with five wickets in an innings or a century to their name.
In 1999, the Jamaican government issued a commemorative postage stamp ($20), bearing the image of Vivalyn Latty-Scott, in honour of her contribution to sports: Women's Cricket in that case. (source)
Vivalyn Latty-Scott's contribution to the development of cricket for the blind
In 2005, host Jamaica, Barbados, and Trinidad & Tobago took part in the inauguration of the West Indies Cricket Council for the Blind interim committee.
Vivalyn Latty-Scott was elected as Cricket Development officer of the committee. Other members were Daemion McLean, President, Leroy Williams, Vice President, and Bhawani Persad, Secretary General.
In October 2005, Vivalyn Latty-Scott accompanied President Daemion McLean to South Africa where the West Indies Cricket Council for the Blind was admitted as a full member of the World Blind Cricket Council. (Source: History of Cricket for the Blind in the West Indies)
Vivalyn Latty-Scott will be remembered not only as a pioneer in West Indies Women's Cricket but as one who by her exemplary performances and positive attitude to the game has inspired and continues to inspire many younger players. She has left an indelible imprint on the game.