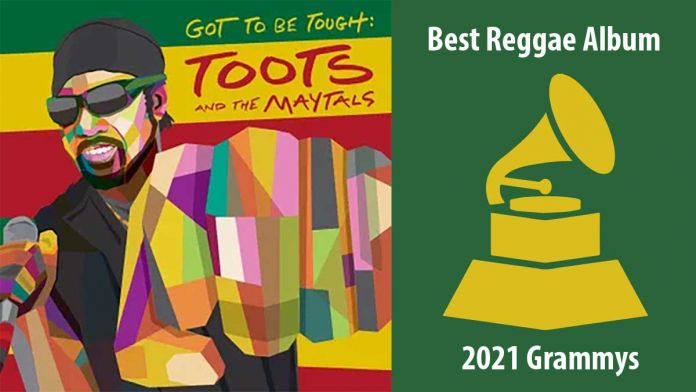 Got to Be Tough won for Toots and the Maytals Best Reggae Album at the 2021 Grammy Awards.  The album was released just days before the death of  Toots at age 77. Other artistes with entries in the Best Reggae Album Category were Buju Banton, Skip Marley, Maxi Priest, and the Wailers.
The win marks the second Grammy Award for the group, who won Best Reggae Album for True Love in 2004.
The album, his first Toots and the Maytals record in 10 years, is a vindication of Toots' grit and determination. In 2013, he was struck in the head by a vodka bottle during a performance. No, it was not at Sting. The effects of the blow curtailed his onstage performances for three years, and left him with frequent bouts of headaches, depression, and mood swings. He was later diagnosed with post-traumatic stress disorder.
The struggles he faced in his comeback attempt perhaps inspired the title of the album. The reggae legend, a boxer in his teens, always considered himself a fighter, appropriately illustrated the album's cover with a default image of himself throwing a punch.
A Rolling Stone profile of Toots shows him as a legend who continued to work harder than might have been ideal for someone his age, spending seven days a week in the studio.
Got to Be Tough will not be counted as one of Toots best efforts. The pure, powerful voice has given way to a hoarse sound as is evident on the track "Just Brutal." His effort and commitment are evident though, reflective of a once-great prize fighter, too proud to throw in the towel. Throughout his illustrious career, Toots was regarded as one of the most energetic and hard-working performers and Got to Be Tough is an illustration of his commitment to always giving his best.