The Peter Tosh Museum, honoring the life and legacy of Peter Tosh, one of Jamaica's global music icon and a founding member of the world-acclaimed reggae group, the Wailers, was opened on October 19, 2016, the 72nd anniversary of Tosh's birthday. The Peter Tosh museum, housed in the Pulse Entertainment Complex, 38A Trafalgar Road, Kingston 10, is approximately 1.7 km, four (4) minutes' drive away from the Bob Marley Museum. The proximity of the two museums makes it more convenient for admirers and devotees of reggae music to visit both locations.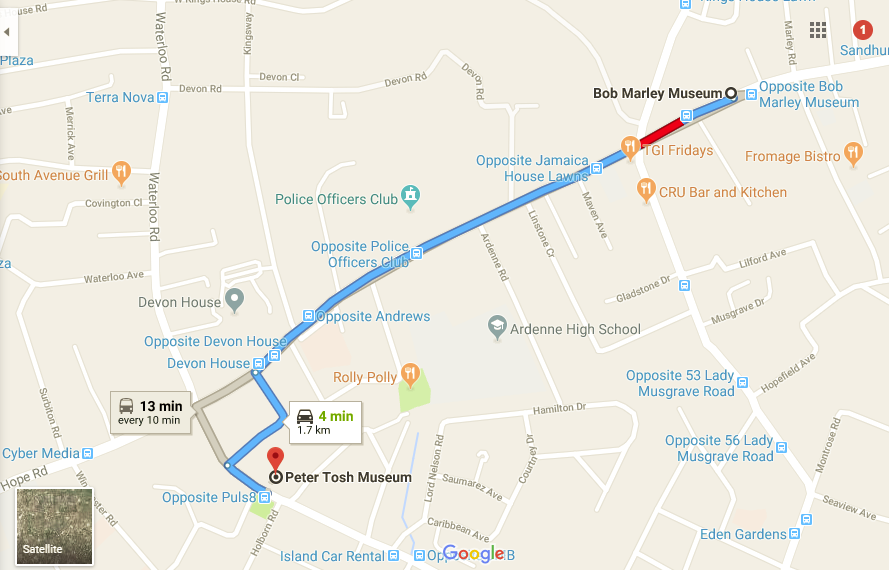 About Peter Tosh Museum
The Peter Tosh museum provides visitors with a multidimensional experience inclusive of visual, technologically interactive elements, and narrative to enhance their exploration of the life of Peter Tosh. A collection of Tosh memorabilia, including his custom-built guitar in the shape of an M16 rifle, his unicycle, the original golden microphones given to Tosh by Mick Jagger, and several painted portraits, are on display.
Two of the items on display were of special significance and great importance to Tosh: His unicycle and the M16 rifle-shaped guitar.
His Unicycle. It was not uncommon to see Tosh riding his unicycle on busy thoroughfares, such as Half Way Tree Road and Trafalgar Road, in Kingston, Jamaica. Being the extrovert he was, Tosh would have enjoyed the attention he got from curious onlookers as he unicycled in public. His unicycle, or "inicycle" as Tosh called it, was his trademark. Tosh became interested in unicycling while on tour in the United States to master the challenge of balancing while riding on a single wheel. He became so fascinated with unicycling and the curiosity it evoked, he often unicycled unto concert stages. No story on Peter Tosh's life would be complete without making known his association with his beloved unicycle, or rather his 'inicycle.'
His M16 rifle-shaped guitar. In 1983, while on the Los Angeles stop of his Mama Africa tour, a local musician presented Tosh with a custom-built guitar in the shape of an M16 rifle, as a gift. When his tour moved to Europe, the airlines mislaid the guitar, which caused Tosh some anxiety. Fortunately, it was recovered eventually, enabling Tosh to perform with it on stage. Tosh treasured the guitar, which aptly reflected his militancy.
About Peter Tosh
Peter Tosh – whose real name is Winston Hubert McIntosh – was born in Westmoreland in 1944. As a teenager, he went to live in Trench Town, where he teamed with Robert Marley (Bob Marley) and Neville Livingston (Bunny Wailer) to form the Wailing Wailers. Tosh, regarded as the most radical, militant, and censorious of the trio, co-wrote "Get Up, Stand Up", the group's militant anthem.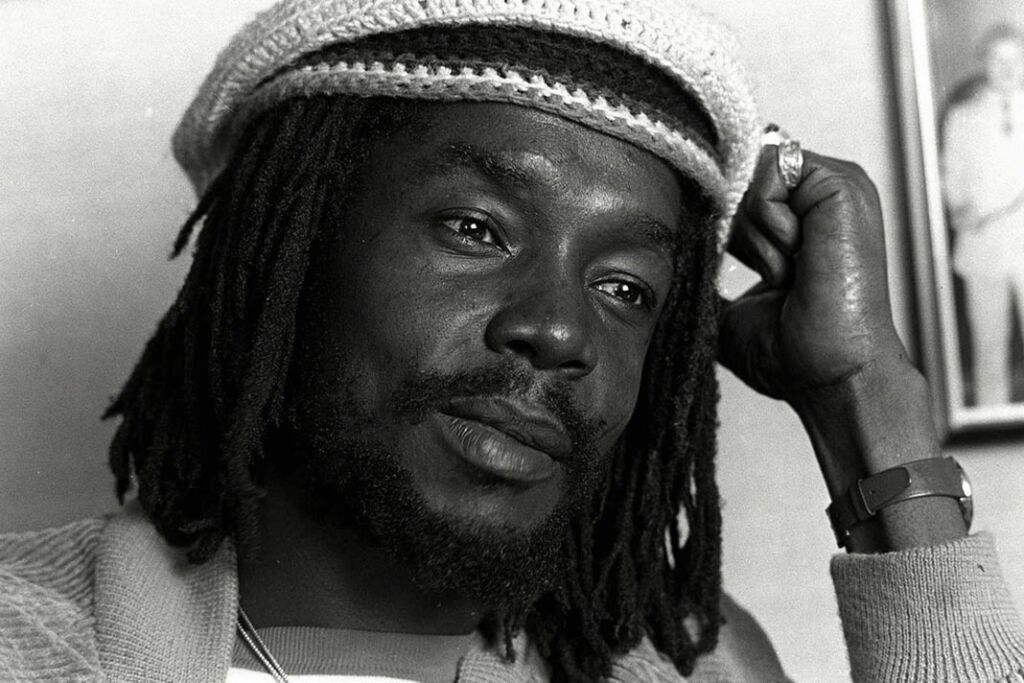 It was as a solo artiste, though, that Tosh gained prominence for his militancy. He demanded the legalization of marijuana in his 1976 epic, "Legalize It" and made the call for social justice in his 1978 album, "Equal Rights." Tosh mocked the authenticity and sincerity of the objective of the 1978 One Love Peace Concert, held at Jamaica's National Stadium, by the following lines from the album's theme song.
Everyone is crying out for peace, yes
None is crying out for justice
Everyone is crying out for peace, yes
None is crying out for justice
I don't want no peace
I need equal rights and justice
I need equal rights and justice
I need equal rights and justice
Got to get it, equal rights and justice
Former U.S. President Barack Obama quoted from Tosh's "Equal Rights" in an essay he wrote while in university.
"Fools Die" from Tosh's 1981 album "Wanted Dread & Alive," contextualizes the artiste's view on spiritual and material wealth. The song is considered by many to be the one of, if not the most, classic reggae songs of all time.
In all, Tosh released seven studio albums and several albums. He won a Grammy for his 1987 album No Nuclear War, posthumously awarded in 1988.
In 2012, Tosh was awarded, posthumously, the Order of Merit, Jamaica's third highest national honour.
April 20, globally recognized as the day for the celebration and appreciation of marijuana, has been renamed International Peter Tosh Day in tribute to the Jamaican reggae music icon, well-known during his lifetime as a leading activist and advocate for the global legalization of marijuana.
Three decades after his violent murder, the uncompromising lyrics of Peter Tosh remain timeless and continue to stir the consciousness of music lovers worldwide.
If you love reggae and are in Jamaica, the Peter Tosh Museum should be on your list of places to visit.